7 Sep
Review of Apple 2022 iPad Air for Mobile Gambling
Apple iPad Air Review (2022) Tested by Real Online Gamblers in Canada



Apple's 2022 edition of the iPad Air is impressive, to say the least. It's sleek, its M1 chip is extremely fast, and its easily capable of handling any and all tasks you can throw at it. For today's mobile gamblers, the latest iPad Air delivers all you could possibly need, and a lot more; like hitting a nail with a sledge hammer, just because you can. But if you don't intend to do any of those other things it's capable of, it may not be the best option.
Our team has a lot of experience with tablet gaming, both for money and for pleasure, and the 2022 iPad Air definitely has its pluses and minuses. Performance wise, you can't beat it, but the $700 base model's 64GB is disappointing, to put it mildly. If you use a lot of apps, the pricier 256GB model ($950) is an absolute must. In-browser gamers, on the other hand, just may fall in love with this tablet. We'll tell you what it's got, and what it lacks, in our unbiased assessment.
Apple iPad Air Review (2022)
Pros
Cons
» Excellent for In-Browser iGaming
» Sleek Design
» Snappy Performance
» Great Sound Quality
» 5G Ready w/WiFi+Cellular Optional
» Pricey ($700 Base, $1,150 Full)
» Base Model 64GB Storage Inadequate
» Full Model a Must for App Users
» Average Battery Life
» iPad Pro is a Better Deal
Apple iPad Air (2022) Specs
Release Date: March 8, 2022
Dimensions
247.6×178.5×6.1mm (9.74×7.02×0.24in)
Screen Size
276.9mm (10.9in)
Display
Liquid Retina LED, 500nits
Resolution
2360x1640p, 264ppi
Chipset
iPadOS 15+
Chipset
Apple M1 Chip
CPU
Octa-Core (4×3.1GHz + 4×1.8GHz)
GPU
Apple Octa-Core Graphics
Internal Storage
64GB base / 256GB loaded
RAM
8GB base / 8GB loaded
Expandable SD Slot
No
Back Camera
12MP Wide, HDR 3, 5x Zoom
Front Camera
12MP Ultra Wide, HDR 3, 1080p
Touch ID Security
Yes
3.5mm Jack
No
WLAN
802.11ax Wi-Fi 6, dual-band, HT80/MIMO
Bluetooth
5.0
Ports
USB-C 3.1 Gen 2, Display Port
Battery
~10hr, Li-Po 7600mAh (non-removable)
What you need to know most…
» Apple's iPad Air is extremely powerful, with speeds much more impressive than the Apple iPad 2021. It's larger, light, brighter, and at $700 (base model), will also cost about twice as much.
» The 64GB internal storage base model adequate for in-browser mobile gamblers, but anyone who downloads a fair number of apps will have to opt for the 256GB model ($950+). For that price, you might as well buy the iPad Pro.
Overview – Apple's 2022 iPad Air
The 5th-gen iPad Air spent 18 months in development leading up to its March 2022 release. It's got some notable enhancements in comparison to the 4th-gen model hit shelves in September 2020. Not all its features are 'new and improved'.

It comes with the same 10.9″ Liquid Retina display with True Tone colorization and 2360×1640 resolution; the same 65GB-base, 256GB-upgradable storage capacity; the same dimensions, battery, back camera, and Apple Pen2 and Magic/Smart Keyboard compatibility as its predecessor. Aside from the battery, these are all good things that honestly didn't need improving in the first place. It's the things that did receive an upgrade that set the 2022 iPad Air apart from the crowd.

This feat of technological genius is wowing tablet lovers all over again; especially gamers, who will appreciate the superlative speed of the M1 chipset, et al. Out with the old Neural Engine, in with next-gen Neural, featuring 8-core CPU and GPU, plus 8GB of RAM (up from just 3GB). The front camera jumped from 7MP to 12MP; excellent for all those FaceTime videos and Zoom meetings. Connections are faster with 5G, as well.

The only real problem here – and it a real problem – is the price point. Apple set the Canadian MSRP for the 2022 iPad Air at $700 and $950 for 64GB and 256GB with WiFi, and $950/$1,150 for WiFi + Cellular. That's getting daringly close to the price of the base-model iPad Pro 11″. With with all its beefed-up features and size, it might make more sense to skip the Air altogether. Before you do, though, let's keep going…
iPad Air 2022 – Look, Design & Build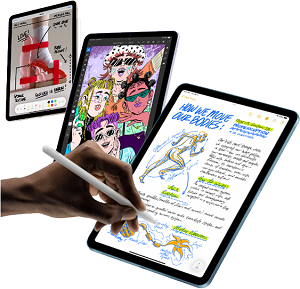 Outwardly, the iPad Air 5 looks a lot like – a whole lot like – the Gen-4 model. Size, shape and display are perfect mimics of one another, although they did change up the available colors a little. The newer model comes in 5 beautifully muted shades of Space Grey, Starlight (tan), Pink, Blue, and Purple (replacing Green). Only the weight is different, and not by much, weighing 461g (1.02lbs), up from 458g (1.0lb); adding 2g more for the Wifi + Cellular model.

Compatible with the Apple Pencil 2, it has a built-in magnet to keep it in place. The Air 5 has more than enough power and lighting under its hood to make an artist's heart go pitter-patter. It's also compatible with Apple's Magic Keyboard and Smart Keyboard for easy conversion to a small, featherweight laptop.

It's no business-grade model, mind you. The iPadOS doesn't do productivity the way other operating systems do. But for everything from notetaking and sketching, to gaming and streaming movies and video content, it packs a real heavyweight punch.

Honestly, the 5th-gen iPad Air is one of the best tablets you can buy. But that nagging question keeps coming back around like a revolving door. Is it worth the money you'll pay for it, when you could get a bigger, better-equipped iPad Pro for just a little more?
iPad Air 5 – Performance Ready
The Air-5 is ready to tackle any task, out of the box. Multiple tasks, in fact. It's M1 chip, 8GB RAM and Octa-Core-enhanced Neural Engine are capable of ultra-high output, meeting the performance needs of any gamer. In our lengthy tests, there was nothing we could throw at it that the Air couldn't handle with ease. Whether you're rendering 3D models, taking on an MMO racing simulator, or interacting with a live blackjack dealer on the other side of the world, this tablet has you covered.

One contributor to its glorious speed is the new iPadOS 15.4. the operating system wouldn't be much good on any other type of device, but for a tablet, it's all you could ask for, and probably more. The interface is sleek and super easy to use, allowing instant navigation between the most arduous tasks. Aside from the amount of money that'll be missing for your bank account, this is one purchase that won't disappoint.

In order to keep that speed up, you'll either need to stick to in-browser activities, or pay the extra couple hundreds bucks for the fully-loaded model. The 64GB runs out of space quickly when you download apps to it; especially resource hogging gaming apps. The 256GB model solves this problem.
iPad Online Casino Gamer's Pro Tip
Today's mobile casinos no longer require an app to play the full line of games. It is an option, of course, but not necessary. The mobile app and mobile browser editions are virtually identical. Thus, the 64GB iPad Air 5 is perfectly capable of running all your favorite casino games.  The 256GB upgrade is only necessary if you prefer downloading apps to gaming in-browser.
The battery should last you about 10 hours with moderately intensive gaming and streaming. That's not bad, but it's also not great. For the price point, it feels like Apple could have easily upgraded the battery beyond the old 7600mAh. On the plus side, you can recharge it in about 3 hours with the included USB-C charger. (Yes, USB-C, not Lightning – thank you Apple for finally doing away with that.)
Reasons to Buy or Pass on Apple's 2022 iPad Air
Is this the best tablet for your needs? Is the 5th-Gen Apple iPad Air capable of fulfilling all your heart's digital desires? We've already established that the Air-5 is a perfect tablet for gambling on mobile. But is it the perfect choice for you? In wrapping up our 2022 iPad Air review, we offer a thoughtful list of reasons why you should or should not buy it.

Buy the Apple iPad Air 2022 if you…
» …want a lightweight tablet that can do anything and everything, all at once.
» …you aspire to be a digital artist (or just really like sketching on a tablet) and don't want to take out a mortgage for it.
» …you like expressing yourself and impressing your friends at the same time.

Don't Buy an Apple 2022 iPad Air if you…
» …you can afford the slightly more expensive iPad Pro 11. For just a little more, the Pro model is superior in every way.
» …you have any intentions of using it as a business tablet or laptop. Good luck managing your frustration levels while trying to manage spreadsheets.
» …you plan to download a lot of apps. The base model is the only option that doesn't beg for an upgrade to Pro, but it's 64GB won't last if you're an app hog.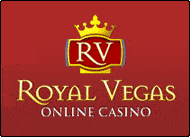 Royal Vegas Canada has been our editor's #1 pick for three consecutive years ! Great compatibility of course (iphones, mobiles and tablets) but also an exciting range of games and promotions. Excellent support teams and quick cashouts… What else to ask for ?
(Remember to gamble responsibly)