Introduction
The terms and conditions below govern your use of this website; by using this website, you accept our terms and conditions in full. If you disagree with these terms & conditions or any part of thereof, you must not use this website for information purposes.
To use this website, you must be at least [18] years of age. If the legal gambling age is older than 18 in your city, state, or province, then you cannot use this website unless you are the legal gambling age in your location. By using this website and by agreeing to its terms and conditions, you warrant and represent that you are at least 18 years of age [or the legal gambling age in your area].
Terms and Conditions
In using www.tabletcasinos.ca, you are deemed to have read and agreed to the following terms and conditions:
The terminology below applies to the Terms and Conditions page, our Privacy Policy, and any other Disclaimer Notes found on this site. "Reader", "Visitor, "You", and "Your" refer to web visitors who read the contents of this site. Terms like "The Owner", "Ourselves", "We", "Us", "I", and "Me" refers to the owners of this site and his company. "Party" and "Parties" refer to both the visitor and ourselves.
Privacy Statement
This site is committed to protecting the privacy of its visitors. The owner of this site, along with authorized employees, might sometimes collect and analyze visitor traffic information and analytics for the sake of improving the quality of this site. We use data to ensure the best possible information for our readers.
This information will not be shared with individuals who are not associated with the company. It will not be sold or otherwise transferred to third parties by those affiliated with this website. We take measures to ensure such information would not be taken from this site by an unaffiliated party. Parliament has created special offences under Canadian law and methods for the prosecuting and taking of civil actions against such people to recover damages against those responsible for such offenses.
Confidentiality
Under the he Personal Information Protection and Electronic Documents Act first passed by the House of Commons in 2000, Canadians have the right to know why a business, organization, or website "is collecting, using, or disclosing their personal information". This personal information includes any and all of the following: name, age, medical records, income, spending habits, DNA code, marital status, and etc.
Visitor's data will not be released to a third party, unless legally required to do so by the appropriate authorities. Those who visit this site have a right to request sight of records that we keep of their activity, provided we are given reasonable notice of such a request.
Confidentiality Statement: www.tabletcasinos.ca will not sale, share, or rent your personal information to a third party. We will not use your email address for unsolicited mail. Any emails sent to this website will be used to collect a mailing list only for mailings that readers agree to receive.
Cookies
This website uses cookies. These are used to collect user data for analytics purposes, and will not be used by the owners of this website to track your online activity beyond the confines of this website. By using this website and agreeing to our terms and conditions, you consent to www.tabletcasino.ca's use of cookies in accordance with our website's cookies policies.
Acceptable Use
You must not use this website in any way that causes, or may cause, damage to the website or impairment of the availability or accessibility of the website. You must not use this website in any way which is unlawful, illegal, harmful, or fraudulent. Also, you must not use this site in connection with any unlawful, illegal, fraudulent, or harmful purpose or activity.
You must not conduct any systematic or automated data collection activities on this website. This includes without limitation scraping, data mining, data harvesting, and data extraction on or in relation to this website, without the owner's express written consent.
You must not use this website to send unsolicited commercial communications. Finally, you must not use this website for any purposes related to marketing, without the express written consent of the owner of this website.
You must not use this website to copy, store, send, use, host, transmit, publish, or distribute any material which consists of (or is linked to) any malware. The definition of malware includes, but is not restricted to, spyware, computer viruses, keystroke logger, rootkit, Trojan horse, worm, or other malicious computer software.
Disclaimer: Exclusions and Limitations
The information on this website is offered on an "as is" basis. This company excludes all warranties and representations relating to this website and its contents, including any inaccuracies or omissions on this website. Information is offered for entertainment purposes and should not be used to make real money gambling decisions.
The Owner excludes all liability for damages arising out of the use of the information on this site. This includes without limitation direct losses, loss of profits, loss of business, damages to your computer hardware, software, systems, programs, and data found thereon. Exclusions apply to direct, indirect, or incidental damages.
Copyright Information
Copyright © 2014
All Rights Reserved. No part of this website may be reproduced, distributed, or transmitted in any form or by any means. This prohibition includes photocopies, recordings, or other electronic or mechanical methods, without the prior written permission of the publisher. Exceptions to this prohibition are limited to brief quotations embodied in critical reviews and other noncommercial uses, which are permitted by copyright law. For permission requests, email the owner, addressed "Attention: Copyright Permissions," at the address provided on the homepage of this website.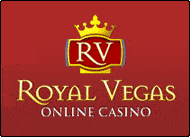 Royal Vegas Canada has been our editor's #1 pick for three consecutive years ! Great compatibility of course (iphones, mobiles and tablets) but also an exciting range of games and promotions. Excellent support teams and quick cashouts… What else to ask for ?
(Remember to gamble responsibly)