12 Dec
10 Techy Christmas Gift Ideas Your Friends will Love!
The 10 Coolest Tech Gifts to Give this Christmas (or Keep for Yourself!)
Some people are very hard to buy gifts for! If you're having a hard time finding that perfect gift for someone on your list, we've got some interesting options for you. We're not plugging these items for personal gain. We get nothing from posting links to them. We just think they're really cool. (And we wouldn't mind if our own friends and family bought them for us! ~wink wink~)
Coolest Tech Gifts to Give (or Get) this Christmas
There's some pretty unique technology coming down the pipeline these days. Not every new gadget is worth trying or buying. But we've hand-selected 10 of the coolest items on the market today. They're not ranked in any particular order. Their level of awesomeness is really dependent on the personality of the receiver. So without further ado…
#1 XY Find It – Item Finder w/ Mobile App
XY find it is hailed as "the world's most powerful item finder". We've all seen those little tags you attach to something, then use a remote to make it beep if you lose it. But XY Find It goes a few steps further. With this nifty gadget, you can tag pretty much anything – car keys, briefcase, a pet – and if it goes missing, turn on the mobile app to find it. It uses maps with geo-location technology to lead you precisely to the item.
XY has gotten fantastic reviews, but they aren't exactly cheap. You can snag 1 for US$40, 3 for US$100, 6 for US$160, or 10 for $240.
Visit the XY Find It Website for more info
#2 Poliglu Translator – Real-Time Translator w/ 36 Languages
Poliglu is an instant, two-way language translator. It's a neat compact device you can easily hold in the palm of your hand. Press the button and speak, and in 1.5 seconds, it will provide a voice translation into the chosen language. Its creators tout Poliglu as the "fastest way to speak any language in the world". Well, almost any language – 36 of them to be exact.
The Poliglu website says these devices retail for US$296.67, but that's never the case. There's always a 'big promotion' going on. Right now, it's a 70% off Christmas Sale, which puts a single translator at US$89.00. And you can get additional discounts for buying extras; as low as 5 for $53 each with their Buy 2 Get 3 Free offer.
I'm not a fan of these better-act-fast promotional tactics. Not only is there always a sale to make $90 look cheap, the website states at the very top, "Only 6 items left in stock!" That's BS, and we all know it. But if you or someone you know is a world traveler, this very well could be the perfect gift!
#3 FIXD – Find Out What's Wrong with Your Car Instantly
Oh, the dreaded "Check Engine" light! We all cringe when it comes on. It means something is wrong with your vehicle, and it could be anything from a cheap fuse to an expensive sensor, or worse. With FIXD, you can find out instantly what's wrong with your car.
This isn't exactly a new item, but it's one any person who drives should keep in their glove box. Just plug it into the port under your steering wheel, start the car, and open the app on your phone. With a simple tap of the Scan button, you'll know within a few seconds why your check engine light is on.
Best of all, this ultra-handy tech gadget only costs US$20! There is a potential downside though. It only works on vehicles with an OBD2 port, which means any vehicle made in or beyond 1996. visit the FIXD Website to learn more.
#4 BoltzPro – Charge up to 4 Devices 4x Faster
BoltzPro is a safe "Fast Charger" for multiple devices. It has 4 USB ports utilizing QC 3.0 technology, to charge at 4x the speed of a traditional charging block. It's also endowed with surge protection to ensure that your devices don't overheat, or worse. And if you're anything like me, you often have a lot more than 1 device that needs charging.
Like all tech gifts, this one comes with some nice holiday promos. You can snag them off the BoltzPro Website for US$37.99 each, US$69 for 3 ($23ea), or US$89.95 for 5 ($17.99ea).
#5 Bondic – Ultraviolet Bonding to Fix Almost Anything!
We all saw the infomercials for this when it came out. Bondic is a unique hand-held pen light capable of bonding almost anything in an instant! It was an overwhelming success, because it did exactly as advertised. It's like super glue, but no mess, and so much stronger. It's waterproof, heat-resistant, and non-toxic. To fix almost anything, simply apply the liquid plastic, then aim the ultraviolet pen light at it. With no glue to sticky adhesive, the item is bonded in under 5 seconds.
The starter kit retails for US$20, with refills priced at US$9 for one, or $40 for 5 on the Bondic Website. you can also find them at hardware stores and online shops like Amazon.
#6 AirMoto – Inflate Anything, Anywhere!
Another great gadget gift for auto enthusiasts, the AirMoto is a compact, portable air pump with a long-lasting, rechargable battery. With an output of 120 PSI, it can handle everything from a sports ball to a Super-Duty tire. Having two kids that play basketball and three cars in the family, it's a must in my own home!
As always, the more you buy the more you save. A single AirMoto will run you US$80, or you can get as many as 7 for US$420, making them US$60 a piece. Learn more on the AirMoto Website.
#7 Barx Buddy – The Smartest Dog toy Ever!
If you own a pet, or are buying for someone who adores their pooch, but isn't always home to play with them, check out the Barx Buddy Busy Ball. It's being hailed as the smartest dog toy ever, and a must-have for the most energetic dog breeds (border Collie, Jack Russel, etc.)
Barx Buddy has built-in motion detectors that set the ball in motion as soon as it's touched by a dog's paw or nose. It takes off rolling, bouncing, and moving in various ways to dogs thoroughly entertained, and it's built to last through the roughest playing and chewing. All you have to do is recharge it before you head out for the day, and it's capable of non-stop action for up to 8 hours. Simply spin the top to open it and access the charging port.
At US$46 for 1 ($70 for 2), it's the priciest dog toy you'll ever buy, but quite possibly the best. See the BarxBuddy Busy Ball Website for more info.
#8 Security Bulb – No Charging, Always Watching!
One of the biggest problems with security cameras is that they either require an in-home wiring system (which most of us aren't equipped to install on our own), or constant recharging. You can pay for installation service, but that expense usually comes with monthly monitoring fees on top of it. Or, you can get the Security Bulb, and never have to worry about recharging or costly subscriptions.
This light socket security camera screws into any light socket. Just replace your outdoor bulb with a Security Bulb, and you'll get 24/7 monitoring and recording on your phone. Features include an HD camera, 360 views, night vision, motion detection, and a built-in alarm. Best of all, it's not ridiculously expensive, either. You can get one for US$50, or a pack of 3 for US$117 ($39ea). Find more at LightSocketSecurityCameras.com
#9 Pivo – The Mona Lisa of Camera Mounts!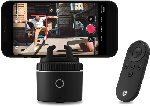 If you've got a live streamer or web vlogger (a.k.a. influencer) on your Christmas list this year, Pivo is one of the coolest tech gifts you can possibly buy them. It's a mount for a smartphone with a little Mona Lisa built in. If you didn't figure out my metaphor yet, the mount twists and turns, automatically zooming in and out, to follow your movements. It's like having a personal cameraman!
It's not a cheap gadget, mind you, but it's one they'll surely appreciate. A single Pivo will set you back US$80. If you have multiple influencers to buy for, you can snag 2 for US$140 or 3 for US$180. The Pivo Website has all the details.
#10 Glow Bowl – Just For Fun (but seriously, guys!)
Is there a man in your house (perhaps it's you) who has a hard time hitting the target during a late-night trip to the toilet? The Glow Bowl will make sure he (or you) never misses again! It's a cheap and fun little gift, but one that could save you a lot of clean-up in the future! Learn more on the Glow Bowl Website and get yours today for as little as US$10, available at many online and retail locations (Amazon, Wal-Mart, Home Depot, etc).