25 Nov
Best Casinos on iPad: Review
Online casino technology has come a long way in the past 15 years. Mobile casino gaming, on the other hand, is still in its infancy. Game designers are still testing the technology and discovering better ways to mimic online casino games. With so much experimentation taking place, tablet computer gamblers are going to find mixed results in their gaming experiences. A list of the best and worst mobile casinos is going to represent a wide gap in quality.
Readers should be that in mind when taking a look at the reviews below. The best casinos have a corresponding worst list and the differences are real. During these reviews, I want to discuss two particular aspects of the experience: presentation and safety issues. Presentation is how the game looks and plays. Safety is whether you can trust a casino to store your banking or credit card information. Before I delve into those concerns, I'll provide new mobile gamblers with a bit of background.
Browser-Based Versus App Gaming
Most of the iPad gaming casinos on the market still use browser-based gaming platforms. That is, you don't download an application like you would with so many of the online games available these days. Instead, a real money gambler navigates to the mobile casino and clicks on the game link on the website. The game opens in Safari and you play in the browser.
A handful of websites off app-based casino websites. This means you go the same mobile site and download an application onto your computer. Anytime you want to gamble after that, you click on the shortcut on your desktop and play using the game app. This provides better graphics and sound quality, along with uninterrupted gaming. It's an all-around better game experience.
Comparisons of Apple iPad Models
If you want an easy one-stop comparison of iPad models, the Apple Corporation provides a very handy tool to do just that. Click on "Apple iPad Compare" and you'll find a comparison of the top 5 models: iPad Air, iPad Air 2, iPad Mini, iPad Mini 2, and iPad Mini 3. As you scroll down the page, you can read the comparison on various specs. Information for each of the five devices stays in the same column, so you'll be able to see it all before you at one time. Comparison include everything from screen specs to prices in stores.
iPad Gaming
Whichever model you choose, the Apple iPad represents the top-end experience in mobile gaming. The iPad is more expensive than most other tablet computers on the market. Owning an iPad is more than a status symbol, though. Apple products are well-designed and the completed product is well-executed. That's why Apple has a hard core of supporters who swear Apple products are better than Microsoft among the desktop computers, and better than Android gadgets among the mobile devices.
To get the full use of iPad tablet computers, you'll need to gamble using a downloadable app. While the technology is improving, playing inside the browser is an inferior gaming experience. I've already said very few such mobile casinos exist at the moment, so your list of options are going to be quite small. Therefore, Canadian iPad users are going to have only a tiny number of tablet casinos from which to choose.
Microgaming Mobile Casinos
Microgaming is the best software package for mobile casinos. This stands to reason, because Microgaming is the leading online casino software producer. The UK-based design company combines technical knowledge with the resources to maintain its cutting edge reputation. Microgaming mobile products are known for their innovative designs, but they do not sacrifice reliability to innovate.
That being said, Microgaming doesn't have the prettiest games on the market. 3D slots specialists like Net Entertainment and Sheriff Gaming take that prize. Among the long list of 2D online video slots designers, Microgaming has the best graphics and art design. When you're gambling with an iPad, you want to get the most out of your tablet computer. Microgaming is the best software, when graphics and safety are both considered. Microgaming organized the eCOGRA online gaming watchdog group, so it is a leader when it comes to safe and fair gaming.
Spin Palace Mobile Casino
Spin Palace offers an Apple mobile game apps for a suite of Microgaming products. These app are designed to be compatible with iPads and iPhones. Blackjack, roulette, and 3 Card Poker are table games you can play at both the mobile and online versions of this casino. Spin Palace Mobile offers 43 of the top Microgaming video slots titles, including Thunderstruck, Break Da Bank, Major Millions Progressive Slots, and the Tomb Raider licensed slots game.
Several of Microgaming's top releases from the last several years are offered, including Agent Jane Blonde, Hitman, Halloweenies, and Stash of the Titans. In most of these cases, the games are offered in the form of downloadable apps. The welcome bonus is $1,000 over the first three deposits for Spin Palace Mobile depositors.
Royal Vegas Mobile Casino
Royal Vegas Mobile Casino is powered by Microgaming software, too. It has almost as many online slots games (41), though its selection is slightly different. For instance, Royal Vegas Mobile is without some of Spin Palace's slots title, but it has The Dark Knight Rises Slots, Thunderstruck II, and Cash Splash 5-Reel. Each of these titles are top games which mobile gamblers will want to experience. A few oddball slots titles are offered, as well, such as Karate Pig.
Royal Vegas Mobile also provides table games like roulette, blackjack, and craps. Royal Vegas has a $1,200 bonus for new signups. The bonus is spread over your first three deposits, so you don't have to spend all your gaming funds at once to activate the bonus.
Live Casinos on iPad
No live casinos are available just yet for Canadian gamblers who use iPad tablets. It's only a matter of time before this changes. For the time being, only people who play on traditional desktop and laptop computers are going to be able to gamble on live blackjack, baccarat, and roulette. Expect this to change in 2015 or 2016 at the latest.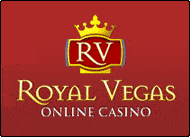 Royal Vegas Canada has been our editor's #1 pick for three consecutive years ! Great compatibility of course (iphones, mobiles and tablets) but also an exciting range of games and promotions. Excellent support teams and quick cashouts… What else to ask for ?
(Remember to gamble responsibly)