22 Dec
Gambling Addiction in Canada Versus the United States
Gambling is big business wherever you are in the world, and the amount of people that gamble on a regular basis, and the amount that they gamble, has increased over time. It has been reported that over 1.5 billion people gamble regularly, and it's safe to assume that the majority of these come from developed nations, where expendable income and easy access lead to a widespread gambling culture.
In Canada, there are more people gambling now than there were ten years ago, mainly thanks to the advent of online casinos and sports books. That is an impressive stat when you consider that a decade ago the numbers were up fivefold from the previous decade. The numbers are also up in the United States, and despite the collapse of online poker following Black Friday, or the decline in popularity of Atlantic City, there are still plenty of Americans who gamble regularly.
With so many people gambling, it is inevitable that many are going to develop a problem. Official figures from a UK organization estimate that 7% of regular gamblers show signs of addiction. The effect on each individual is different and dependant on circumstances and severity, but the rules of the country, and how they treat the addiction also makes a significant difference.
In Canada there are many systems in place to help those who think their gambling has gotten out of hand, including an array of helplines. As with the United States, they often treat gambling addiction in the same way they would treat other addictions, and there are rehab centres that cater for gambling addicts that also help drug addicts and alcoholics. Abstinence is the key here, and via methods of group therapy in a relaxed and controlled environment then most addictions can be alleviated.
One of leading programs for addicts in Canada is Bellwood, which is based in Toronto. They offer different programs for each addiction, but many of the treatments used for problem gambling are used for other addictions, including a 12-step program that is similar to the one often used to treat drug and alcohol addictions.
For many problem gamblers there are also other issues to address, as this is an addiction that rarely occurs on its own. Studies suggest that at least half of all gambling addicts suffer from mood disorders, anxiety disorders and/or drug and alcohol addictions, which makes treating them the same as other addicts seem like the right thing to do. Perhaps because of this, gambling addiction is more destructive than many other addictions, which is perhaps why statistics suggest that there are more cases of suicide amongst gambling addicts than those with other addictions.
This applies not just to Canada, but to the US and elsewhere. A gambling addiction can have a severely detrimental effect on a person's finances and relationships, and the stress that this causes, along with the co-morbid conditions that occur, can also damage them physically.
In the United States gambling has been prominent for a long time, and the Americans are notorious for recognizing and treating addictions long before other countries do. Cities like Las Vegas have attracted gamblers from all over the world, and gambling addiction is so prevalent here that they even have a gambling awareness month to recognize the issue. There are also many Gamblers Anonymous meetings around the city, and those who think they need such a service can test themselves on one of the city's most popular online publications.
Make no mistake though, gambling is big business and even on the websites that cater for gambling addicts in the City of Sin, there are endless advertisements for the very hotels and casinos that create the problems in the first place. This is the paradox that Las Vegas creates, and the reason why this part of the world is so different from others. The city needs the gambling dollar, but at the same time they recognize that gambling can cause problems, and so alongside the many casinos, poker rooms and bookmakers, you'll find meetings for Gamblers Anonymous and other such associations. These are not funded by the casinos themselves, but by the city and the government that allows those casinos to set up shop.
In Canada gambling is widespread and legal, and there aren't too many with gambling problems. There is also more of a sense of attacking the root of the problem, with players able to tell a slot machine to limit their play in order to stop themselves from getting carried away. In the United States gambling is mostly illegal, and there are more gambling problems there than anywhere else. We're not saying that legalizing gambling will fix those issues, but just like the prohibition on alcohol, the "solution" is only serving to create more problems.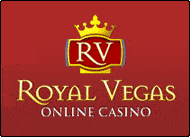 Royal Vegas Canada has been our editor's #1 pick for three consecutive years ! Great compatibility of course (iphones, mobiles and tablets) but also an exciting range of games and promotions. Excellent support teams and quick cashouts… What else to ask for ?
(Remember to gamble responsibly)