10 May
InstaDebit vs. eChecks – Is One Better Than the Other?
Internet gambling has been greatly facilitated by third party processors that link directly to a player's savings or checking account and disseminate monies anonymously to online casinos. These electronic wallets, known as eWallets, fund betting bankrolls safely, instantly and at low cost that are typically assumed by the casino operators. Americans are familiar with PayPal as an eWallet and Europeans deal with such trusted companies as NETeller and Skrill. In Canada, online gamblers have InstaDebit.
InstaDebit was launched in Toronto in 2003, but early growth was blockaded by the United States government three years later when online gambling was outlawed. Today, InstaDebit services mainly Canadian customers; American players outside Canada can not even access the website. Apart from that, how does using InstaDebit compare with using an electronic check to maintain an online casino bankroll?
Electronic checks, or eChecks, also link directly to a bank account. The eCheck transmits the same information as a paper check – primarily the bank routing number and account number. An eCheck carries no further personal information to an online casino operator. An eCheck also uses public key cryptography and encryption techniques to maximize safety. Even if the security measures built into the transaction are breached there are added steps in the process such as automatic verification and duplicate detection. Protections such as a stop payment are still available if anything triggers alarm alerts.
At InstaDebit, verification checks are performed at sign-up and a credit check run. These are used to establish a weekly transaction limit that is typically around $500. Those are U.S. dollars. An InstaDebit account creates two currency accounts, one in Canadian dollars and the other in U.S. dollars, which is their default currency to play in online casinos. Account holders can use either to gamble with but their is no transfer procedure between the two currencies.
Both InstaDebit and eChecks are fast, easy and safe methods to make deposits in online casinos. Both provide anonymity to the player. One advantage of an eCheck is that there is no exposing of a bank account to a third party. This is a benefit if the player plans on confining online activity to a single casino. On the other hand, if a player wants to sample a wide range of casino offerings it can be better to run all that activity through a single third party processor such as InstaDebit.
Since eChecks connect directly to a bank account it is advisable to open a separate account for gambling activity and fund it with amounts that will be used for the current gambling session. This way if an account is compromised the hacker will not have access to an entire bank account. An InstaDebit account is in essence that separate gambling bank account since it must be funded.
Gamblers can also use InstaDebit without an account – they can sign up during the registration process with an online casino. In this way InstaDebit is functioning exactly as as eCheck would, writing the check off an existing account. Being able to open an InstaDebit account in the casino software with the ability to instantly fund a bankroll is an attractive benefit of the Canadian eWallet. And all transactions are backed by the Department of Justice of Canada and its financial regulations.
InstaDebit and eChecks are each fast and secure ways to make online deposits without divulging personal information that casino operators do not need to know. Each is a way for a player to set up an easy-to-tap gambling account that will limit exposure to financial shenanigans. Each is an accepted payment at hundreds of online casino sites. Transaction vis each method are subject to strict verification procedures. Both are low cost with deposit fees almost always assumed by the casino. Each can be used to withdraw money. There is a transaction limit with InstaDebit which, depending on the player, can be regarded as an aide or a nuisance. That money cap will likely be the only argument for Canadians not gambling online with InstaDebit.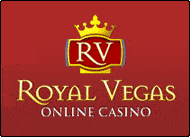 Royal Vegas Canada has been our editor's #1 pick for three consecutive years ! Great compatibility of course (iphones, mobiles and tablets) but also an exciting range of games and promotions. Excellent support teams and quick cashouts… What else to ask for ?
(Remember to gamble responsibly)