21 Oct
Bovada Casino promotes Race to 77 Million Slot Spins Milestone
At Bovada Casino, 7 is clearly the lucky number to look for these days. The online gambling destination is hosting a series of promotions in anticipation of striking the 77 millionth spin of its online slot machines this month, and lucky members can earn their share of over $100,000 in cash prizes along the way.
The 77 Million Slot Spins race began in early October and has already awarded 6 milestones worth of prizes to a total of 42 lucky players. Each winner received a prize of $777 in old hard cash. There are 11 milestones in all, with the first ten doling out $777 cash prizes to 7 lucky winners each time a milestone is reached. The 11th and final milestone—the big 77 millionth slot spin—will distribute the largest prize of all; $7,777 to each of the 7 winners.
We've definitely established that Bovada Casino is giving away some very lucrative prizes. Now let's discuss how players can become one of those lucky winners before the promotional period ends.
How to Participate at Bovada Casino

The 77 Million Slot Spins promo hits a milestone every time 7 million spins occur (the 7 millionth spin, 14 millionth spin, 21 millionth spin, etc.), all the way up to the big 77,000,000. Since the promotion began earlier this month, Bovada members have spun the reels a whopping 48,047,835 times. That means the seventh milestone, 49 million spins, is about the strike any moment.
In order to receive an entry to each milestone's prize drawing, players must place cumulative, real-money wagers of $777 or more on any of Bovada's online slot machines within the milestone's time period. For example, placing $777 worth of wagers between now and the 49 millionth spin will earn players one entry to the drawing.
Once the 49 millionth spin takes place, aggregate wagers will be reset and player will have to work their way back up to $777 in slots wagers to qualify for an entry to the 8th milestone (56 millionth spin) prize drawing.
When will each Milestone Strike?
It's impossible to say exactly when each milestone spin will occur. That all depends on the activity level of players on Bovada's multitude of online slot machines. However, the law of averages could give us some insight into predicting the date of each milestone.
If we look at the list of past winners, we see that each of the preceding milestones occurred as follows:
7 Millionth Spin: October 7
14 Millionth Spin: October 9
21 Millionth Spin: October 12
28 Millionth Spin: October 14
35 Millionth Spin: October 17
42 Millionth Spin: October 19
Based on that information, we can clearly see a pattern. Historically, each milestone is struck 2 days apart, 3 days apart, 2 days apart, 3 days apart, and so on. Therefore, it's easy to predict that the 49 millionth spin will occur sometime tomorrow, October 22nd.
However, with the number of spins having already topped the 48 million mark, I would not be at all surprised if the next milestone strikes today, perhaps even in the next hour or two.
While that doesn't provide much time for new participants (outside of high rollers) to earn an entry to the current milestone drawing, it does offer a quick heads-up for players to get in on the action as soon as the promotional period for the upcoming 56 millionth spin gets underway.
Weekly Match Bonuses on the Menu
During this special slots promotion, members of Bovada Casino can also take advantage of weekly match bonuses. Every member who deposits a minimum of $20 into their account for the qualifying week will be eligible to take advantage of that week's match bonus promotion.
The percentage match and scale of the bonuses change regularly, so members must check the bonus page each week for current information.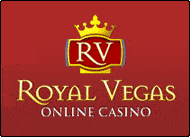 Royal Vegas Canada has been our editor's #1 pick for three consecutive years ! Great compatibility of course (iphones, mobiles and tablets) but also an exciting range of games and promotions. Excellent support teams and quick cashouts… What else to ask for ?