27 Nov
Beware Social Media Gift Exchange Pyramid Scheme, Comparable to Gambling
Just about everyone can agree that we love social media, and we love receiving gifts. What we don't like is becoming the victim of a Pyramid scheme. Unfortunately, that's the latest scam going around these days, and much like gambling, it's not just illegal, the odds are stacked against you.
Beware of the social media gift exchange scams that are popping up all over Facebook and Instagram, such as the "Secret Sister" scam. It's not necessarily a new scheme, having appeared this time last year as well, but the seasonal con is attacking with more ferocity this holiday than ever.
How does it work? You scroll through your Facebook or Instagram posts and see a post from a friend inviting you to join a gift exchange. When you join, you're asked to buy a simple $10 gift (or even $10 in cash) for someone you don't even know – whoever's name is at the top of the list – and mail it to them.
In exchange for your random gift, you are told that you will receive as many as 36 gifts in return, from complete strangers. The most vigilant members of the pyramid scheme are posting photographs of all the gifts they've received.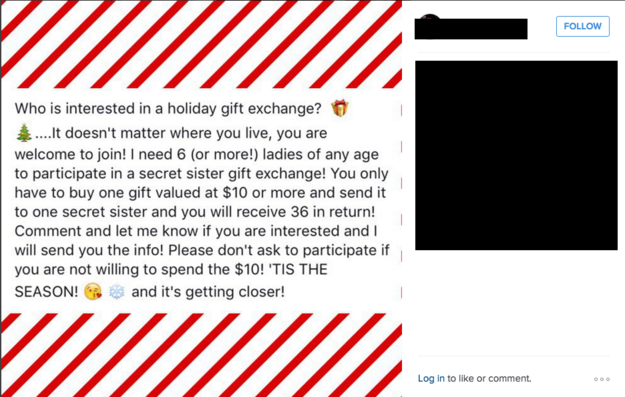 It's no different from the chain mail letters of old, or any other pyramid scheme that's plagued society for decades. There's a list of people's names, and the name at the top receives gifts. Upon sending a gift, your name is added to the bottom of the list. And if you get lucky enough for your name to eventually reach the top, you will begin receiving gifts as well.
It is, in essence, a form of illegal gambling. You pay money in hopes of receiving more money, or things of more value, back. But there's every chance you won't receive anything at all. You might as well go place a bet on the ponies at the local track, because the odds are not in your favor.
The biggest problem with pyramid schemes – outside of their being illegal, of course – is that they rely upon more and more people joining in order to become profitable. And there are only so many people out there who will fall for the new social media gift exchange scam. Mathematically, it's not feasible for such a scheme to sustain itself.
Don't Fall for Social Media Scams
There are several things you should watch out for to ensure you don't become a victim of this or any other social media scam. The most obvious way to protect yourself is steer clear of anything that sounds 'too good to be true'. When things sound too good to be true, they usually are.
Look out for shortened links, too. A modern convenience introduced in 2009 to reduce the exhausting length of some URLs, scammers will often make use of link shortening to disguise their actual domain name, redirecting those who click them to malicious websites. If you don't recognize the link provided, don't click it.
Also, don't trust a link just because it was posted by a friend or family member you trust. Not all posts that appear on social media are actually posted by the individual. Social media accounts are often hacked or compromised by malware programs that automatically post in their name.
How to Report a Social Media Scam
If you come across this new social media gift exchange scheme, don't just ignore it. You can report the scam directly to Facebook or Instagram. In Facebook, click the down-arrow in the top-right corner of the post and click 'Report', then follow the instructions. On Instagram, click below the post and choose 'Report', then follow the instructions.
You can also report pyramid schemes and other illegal gambling scams at BBB Scamtracker, or read up on the latest scams at BBB Scam Alerts.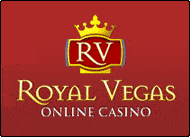 Royal Vegas Canada has been our editor's #1 pick for three consecutive years ! Great compatibility of course (iphones, mobiles and tablets) but also an exciting range of games and promotions. Excellent support teams and quick cashouts… What else to ask for ?
(Remember to gamble responsibly)