17 Dec
Top 10 Reasons why Online Slots are the Superior Choice
I've played just about every game there is at a live casino. I've also experienced all that internet-based gambling sites have to offer.
While I can appreciate the strategic niceties of blackjack, and the personalized experience of a brick-and-mortar casino, I've also come to realize that playing slots online comes with a throng of advantages you just don't find anywhere else.
With that said, let's take a look at the top 10 reasons I believe online slots are the superior choice.
1. Progressive Jackpots
There aren't too many games in a casino that can make you an instant millionaire – at least not without wagering a huge amount of money to get there. But those cheap penny slots can award massive progressive jackpots worth millions of dollars in a single play!
2. Variety
No other gambling amusement in the world comes with such an immense variety of themes and game types. Sci-Fi, fantasy, sports, aquatic, equestrian, wildlife, cultural, you name it, there are at least a dozen online slots titles venerating your favorite themes.
3. The Classics
While the majority of live casinos are doing away with the old-school slot machines in favor of 5-reel, multi-payline video slots, you can still find tons of classic reel beauties online, offering 3 reels limited to 1, 3 or 5 paylines. The ever popular fruit machines are still available in abundance also.
4. I'm in love!
There are thousands of slots online, and a remarkable number of them are infused with some of the sexiest virtual bodies you'll ever see. The ladies will surely enjoy the chiseled masculinity of characters like Thor from Thunderstruck and Hunky Heroes by Microgaming, or Playtech's Chippendale's, teeming with hot, shirtless men. And guys, don't worry, you'll have plenty of eye candy, too, from titles like Playboy, Girls with Guns and Sweet Harvest, in which a farmer labors to maintain his crops while struggling to thwart the wily, cavorting ways of his curvaceous daughter.
5. Show off your skills
Many of today's newer online slots integrate skill-based gameplay wherein users progress through levels, unlock achievements and earn special rewards for climbing the ranks.
6. Take me for a spin
Slot machines offer one thing you won't find in any other casino games – free spins! I've played a lot of blackjack, roulette, craps, baccarat and video poker in my days, and never once have any of them offered me a free game.
7. You took my slot!
If you go to land-based casinos often, you probably have a favorite slot machine or two. But how many times have you found someone else sitting in your seat? It's like when you go to the lake and some guy took your favorite fishing hole – it can totally ruin your day! Playing slots online, every machine is always available, even if a thousand people are playing it at once.
8. Special Features
Bonus rounds are one of the best features in online slots. Not only do they make the games more exciting, with a little luck, you can win massive amounts of credits when they are triggered.
9. I love that movie!
If you have a favorite movie that earned a 'Blockbuster' rating, chances are you'll find it emulated as an online slot. From Jurassic Park and Bridesmaids, to a slew of Marvel: Avengers games—not to mention all of the hot TV show titles like The Walking Dead and Game of Thrones—there are plenty of theatrical themes to tickle your fancy.
10. Bonus Bonanza
Land-based casinos might throw you a few comped credits here and there, but online casinos dish them up every day. You can earn free slots play for signing up an account, making a deposit, being a loyal customer or just because it's your birthday. Promotionally speaking, there are way more free-play advantages to playing slots online.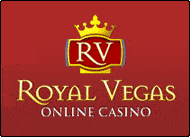 Royal Vegas Canada has been our editor's #1 pick for three consecutive years ! Great compatibility of course (iphones, mobiles and tablets) but also an exciting range of games and promotions. Excellent support teams and quick cashouts… What else to ask for ?
(Remember to gamble responsibly)