8 Apr
Steve Wynn reveals plans for Paradise Park in Las Vegas
Steve Wynn, CEO of Las Vegas casino giant Wynn Resorts, is a busy man these days. He has billions of dollars worth of projects underway from the east coast's Everett, Massachusetts, all the way to Macau, China. Between monitoring progress on those ventures, and possibly testifying in front of a federal court, he's found time to announce a new resort complex coming Las Vegas.
Steve's latest endeavor is called Wynn Paradise Park, and in true Vegas Strip fashion, it's stacking up to be quite a site to behold. The centerpiece of the new design will be a man-made lake, where visitors can do everything from water skiing to paddle boarding.
Surrounding the lake's mile-long boardwalk, Wynn intends to construct a strain of visitor comforts, including retail shops, restaurants, entertainment venues and more. And of course, what would any Wynn Resorts property be without a luxury hotel rising into the Las Vegas skyline?
The Wynn Paradise Park will be built upon the site of the Wynn Golf Club, directly behind his premier Las Vegas Strip hotel casino properties, Wynn and Encore, thus the new development isn't expected to contain any forms of gambling. It will, however, boast it's own 1,000-room hotel and 250,000 square-feet of meeting space.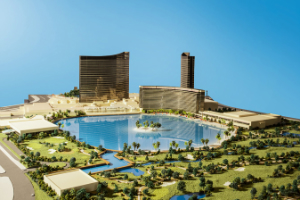 Wynn told investors that the Wynn Golf Club currently situated on the property is generating an EBITDA of about $5 million per year. Wynn Paradise Park, on the other hand, is estimated to harvest upwards of $400 million annually according to Telsey Advisory Group analyst, David Katz.
The non-gaming resort trend is growing more and more popular with sites like the T-Mobile Arena – a joint project between MGM Resorts International and AEG – that opened earlier this week. While casinos still bring in a great deal of money in Las Vegas, research has shown that millennials, aged 18-33, are more attracted to nightlife and entertainment than the monotonous gyrations of slot machines.
The image above is an initial artistic impression of what Wynn Paradise Park could look like upon completion, but the casino magnate has already said that the design for the new property is still in the works. He expects to present a full layout of the tentatively-projected $1.6 billion complex to board members of Wynn Resorts sometime in the Fall to get their approval.
If all goes as planned, this will mark the first time Steve Wynn has undertaken a major property project in Las Vegas since he spearheaded the construction of the Encore, which opened its doors in 2008.
Busy Days for Steve Wynn
Mr. Wynn has a lot on his plate these days. Over on the Cotai Strip in Macau – the Chinese rendition of Las Vegas – his $4.1 billion Wynn Palace is slated to open sometime this summer. Officials are hoping to generate an EBITDA of $850 million from the property by next year.
He's also working on a $2 billion project in Everett, Massachusetts, where a waterfront resort, Wynn Boston Harbor (aka Wynn Everett), is still in the infantile stages of development.
Last but not least, it was announced this week that Steve Wynn could become a government witness in a case involving a convicted felon and known Mafia agent, Charles A. Lightbody, who owned a 12% stake in the property Wynn purchased in 2014 to build Wynn Everett.
Due to Massachusetts state laws that prohibit convicted felons from earning a profit from any form of gambling, the government alleges that Lightbody and two other stakeholders altered documents to cover up his involvement in the sale. Court documents state that Mr. Wynn is merely an innocent bystander in the case.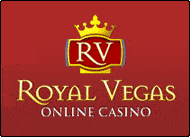 Royal Vegas Canada has been our editor's #1 pick for three consecutive years ! Great compatibility of course (iphones, mobiles and tablets) but also an exciting range of games and promotions. Excellent support teams and quick cashouts… What else to ask for ?
(Remember to gamble responsibly)