20 May
Manchester Police investigating Crafty Theft of Slot Machines at Newport Arcade
If you've ever spent much time playing slot machines, you should know it's impossible to make them deliver a payout. Yes, you can just keep inserting credits until you eventually hit a big win, but how much will you lose before it happens? Apparently there are ways to get around that, though, as police say two men did recently at a Newport arcade.
The Greater Manchester Police Department is hoping to gather more information on a suspect whose visage was captured by CCTV cameras when the alleged crime took place. According to authorities – and the unlucky staff member who tried to stop the culprits – they found a way to trick the slot machines into paying out coins.
News reports indicate that two suspects entered the Quicksilver Arcade in Newport at approximately 6:40pm on Tuesday, April 12. They casually approached an aisle of slot machines, just as any other customers might do. However, the staff member immediately noticed something was amiss.
The slot machine they were standing at was consistently spitting out coins. Upon further inspection, she discovered they were using a "special key which forces the machine to pay out," reported The Bolton News.
The brave staff member did her best to stop the thieves from stealing any more coins from the slot machines, putting herself between the two men and the gambling device. Obviously desperate for the money, one of the culprits grabbed her and flung her out of the way as the men continued to grab as many coins as they could, stuffing them into their pockets before fleeing the scene.
Authorities say the men escaped with about £120 worth of coins.
Image Released of Slot Machine Thief
More than a month later, Greater Manchester Police are still working to crack the case. They've released a CCTV image of a man they "are very keen to speak to", said Detective Constable Christopher Hickey.
In speaking with the press, Hickey commended "the bravery of this victim to try and prevent these men from carrying out their robbery.
"Unfortunately," he continued, "they showed no mercy and as a result of that assault, the man in question was able to walk away with some of the cash they had tricked the machine into paying out."
Disgusted with the assailants sheer lack of human decency, Hickey said the crime "demonstrates how low these men are, pushing a defenceless woman out of the way so they can desperately shovel pound coins they did not win, or earn, into their own pockets."
The Detective Constable confirmed that, fortunately, the victim did not sustain any injuries during the incident.
The CCTV cameras were apparently able to capture a relatively clear image of only one of the slot machine thieves. He is described as a white male, about 5ft-5in tall, and walked with a limp. His brown hair was short on the sides, longer on top and was slicked forward at the time.
The other suspect is described as a white male, approximately 5ft-6in tall, with a large build.
Referring to the man in the CCTV image, Hickey plead to the community. "If you recognise him, please contact police as a matter of urgency."
Antone with information in the case is asked to call 101 and reference incident #120416/1771, or leave an anonymous tip with Crimestoppers, 0800 555 111.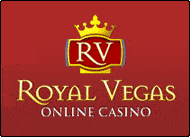 Royal Vegas Canada has been our editor's #1 pick for three consecutive years ! Great compatibility of course (iphones, mobiles and tablets) but also an exciting range of games and promotions. Excellent support teams and quick cashouts… What else to ask for ?
(Remember to gamble responsibly)