1 Jul
Trump Taj Mahal workers Walk Out, Local 54 on Strike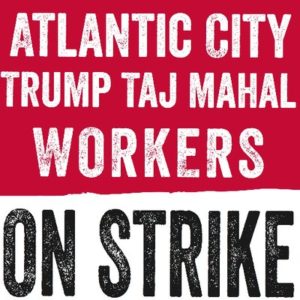 In the early morning hours, just before the sun rose over Atlantic City, employees of the Trump Taj Mahal were alerted by a mass text message that the time had come to take action against their employers. At precisely 6 a.m. Friday morning, members of UNITE HEREs Local 54 did not clock in for work, and those already on the clock punched out, walking out the doors to take up picket signs.
Outside the Atlantic City casino, Local 54 has gone on strike.
All along the boardwalk, strikers can be seen marching to and fro, donning red t-shirts and picket signs that read 'Atlantic City Trump Taj Mahal Workers On Strike'. In unison, the multitude of picketers chant their mantra: "All day, all night, Local 54 on strike."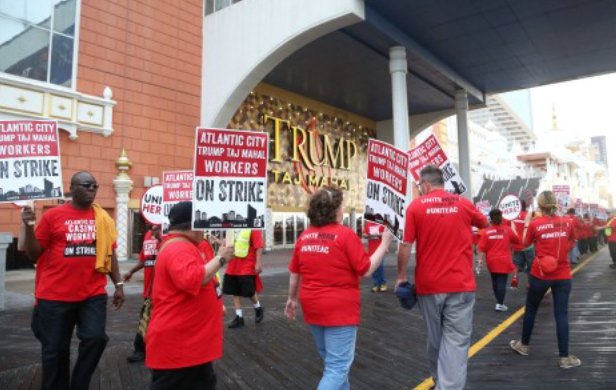 Despite the ostensibly vast reduction in staff, the casino did not close it's doors this morning – not to the public anyway. Inside, the gaming floor was sparsely occupied by gamblers, who continued to play slot machines or toss chips at the casino's table games. A pair of resolute security guards stationed at the front doors, however, refused to grant access to members of the press.
According to UNITE HERE Local 54 Twitter feed (@UHLocal54), "Close to 1,000 workers at the Trump Taj Mahal casino went on strike early Friday after it failed to reach a deal with union negotiations."
Talks Fell Through at Trump Taj Mahal
A spokesperson for UNITE HERE confirmed that the strike was a direct result of negotiations with Trump Taj Mahal that fell through Thursday night. He said recommencement of negotiations have not yet been scheduled.
At the same time, the union was able to come to an agreement the other four Atlantic City casinos they'd threatened to strike against; Bally's, Caesars, Harrah's and The Tropicana. Details of those contracts have not bee disclosed, but as a result, operations carried on uninterrupted at those properties, where about 5,000 workers clocked in and out as usual at the start of the busy 4th of July weekend.
Workers at Trump Taj Mahal sought three concessions. Firstly, they demanded that a paid vacation of least one week per year be granted, restoring a basic term of employment that was stricken in 2011. Secondly, they are seeking a $3/hr wage increase, to be implemented in increments of $0.60 per year over the next 5 years. And finally, they want the Atlantic City casino to contribute sufficient funds to their unionized health care to maintain the current status of their benefits.
Healthcare Critical Issue for Some
55 year old Mayra Gonzalez of Brigantine has spent the last 26 years in the employment of Trump Taj Mahal, every since the Atlantic City casino first opened in 1990. She was originally hired to shuck oysters, and has since been promoted to intermediate cook.
Gonzalez told the Press of Atlantic City the restoration of health insurance benefits is a priority for her. When the casino eliminated employee benefits a few years ago, she was forced to sign up for the Affordable Care Act (aka ObamaCare). However, as a diabetic, she's now paying over $300 a month out of pocket for the plan and necessary medications.
She said her position at the casino pays $450/wk, and the loss of benefits has taken a heavy toll on her pocket book.
"That's why I'm here. I think we have to send the company a message, and I think we are," said Ms. Gonzalez. "We're willing to be here as long as it takes to get at least some of it back, especially health care."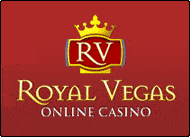 Royal Vegas Canada has been our editor's #1 pick for three consecutive years ! Great compatibility of course (iphones, mobiles and tablets) but also an exciting range of games and promotions. Excellent support teams and quick cashouts… What else to ask for ?