9 Aug
Experience VS Convenience: When Live and Online Casinos Collide
Whether you're placing chips on the felted tables or tapping the screen of your smartphone, gambling is still gambling, right? In some ways, yes, but there's a big difference between playing the slots in a brick-and-mortar casino and spinning the reels on your laptop while sitting on the couch, waiting for the commercials to end during your favorite television show.
For years now, as the technology behind online casinos became more advanced, it's been feared that internet gambling would destory – or as most analysts call it, "cannibalize" – the patronage of land-based casinos. While it's true that the accessibility of online gambling websites is an obvious attraction for many players, there's no foreseeable threat that live operators will disappear from the planet.
There are simply too many lures for adults to experience the real thing, and for those land-based casinos that enter into the online realm of internet and mobile gambling, it's nothing more than the natural progression of an evolving industry.
Live VS Online Casinos
Online casinos offer unparalleled convenience. Anywhere, anytime – thanks to the uprise of mobile gambling apps for smartphones – players can log onto their favorite gaming sites and play hundreds of titles spanning just as many games as you'll find in a live casino, and then some.
The magnetism for players is palpable. Slots, video poker, blackjack, baccarat, roulette, craps, poker, keno, scratch cards, sports betting, racebooks, you name it – if there's a way to bet on it, online casinos will supply it, and players will take full advantage.
Online casinos also provide a much wider range of promotions that land-based operators simply can't afford to mimic. Every new member gets a huge bonus on their first deposit, followed by reload bonuses on a daily, weekly or monthly basis. Tournaments are more common too, since no space is taken up on the gaming floor to present them.
But adults of all ages will never stop visiting brick-and-mortar casinos, because the experience itself is above and beyond anything an online or mobile gambling destination could ever hope to mirror. Live casinos have a special ambience about them. Their lavish nature and unique atmosphere, filled with chiming slot machines, exuberant crowds and free beverages – can't forget the free beverages! – are what makes live casinos so alluring.
On top of that, larger casino resorts provide an unending source of entertainment outside the gambling realm. Most have a spacious events center where live musical and comedic performances are held – many with A-list performers. The nightclubs and bars are huge with millennials, while mouth-watering celebrity chef restaurants and buffets provide a perfect break from the gaming floor.
No, online casinos will never demolish the land-based casino industry, but it's nonetheless true that those brick-and-mortar operators that fail to compete on today's elevated level could face a real threat of being swallowed up by more enterprising competitors; particularly those that evolve their business to meet the needs of millennials and online gamers.
Co-Existence of Live and Online Casinos
The fact is, any major casino operator that resides in a jurisdiction where online gambling is legal and/or regulated has to enter into the online side of the business. Doing so not only helps retain loyal customers, but allows for cross-promotional activities to increase brand awareness.
And there are many other perks for operators who expand into online and mobile gambling, most notably the decreased overhead costs. The number of employees drops dramatically. Instead of hiring trustworthy guards to make sure high rollers and the casino's vaults are safe, a few IT specialists will do the trick. Exorbitant utility bills and cost of luxury furnishings – not to mention regular renovations – are eliminated.
The reality is that live and online casinos can co-exist in harmonious fashion, and while some brick-and-mortar properties may fall to the wayside, such is the inevitable future of all businesses who compete in a global dog-eat-dog market.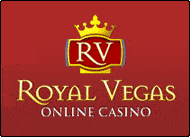 Royal Vegas Canada has been our editor's #1 pick for three consecutive years ! Great compatibility of course (iphones, mobiles and tablets) but also an exciting range of games and promotions. Excellent support teams and quick cashouts… What else to ask for ?
(Remember to gamble responsibly)