19 Jan
Tablets Compatible with more Video Poker Games in 2017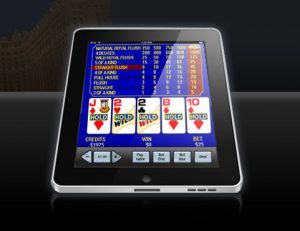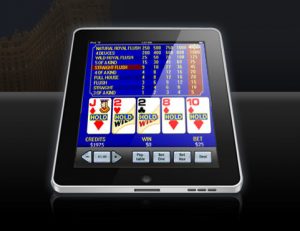 For years now, slot machines have been the number one choice among gambling amusements compatible with tablet casinos. This is due, primarily, to the game software developers who focused so heavily on optimizing slots for mobile, long before Android and iOS touch-screen devices came along. Simply put, there was little else to choose from.
Now days, technology has progressed so far that gaming programmers are finally paying more attention to a wider range of games. Once the mot popular titles like blackjack and roulette came out, they finally turned to video poker games. And for fans of these strategically superior betting options who prefer to play on their tablets, that's great news.
Video Poker Games Compatible with Tablet Casinos
The first video poker games to achieve tablet casino compatibility were the most basic forms. Jacks or Better, Aces and Faces, Deuces Wild; games such as these. The inevitable Bonus, Double Bonus and Power Poker varieties soon followed, offering multi-hand games of 5-Play, 10-Play, even 50-Play.
While these are great games, to be sure, there are many more unique and innovative ways to play video poker these days. At Royal Vegas, for example – one of my personal favorite tablet casinos, fully compatible with all major operating systems (Windows, Mac, Android, iOS, Blackberry, etc.) – there are two dozen different ways to enjoy video poker games for real money.
We'll look two of the most interesting titles that tablet video poker fans may want to check out.
Tablet Video Poker – Poker Pursuit
Poker Pursuit is based on the video poker game, Tens or Better, meaning the player must achieve a hand rank of a Pair of Tens, or anything better, in order to receive a payout (or prevent a loss, as the case may be, since a qualifying Pair only returns the player's bet, not a profit).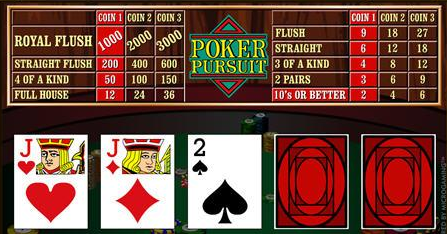 What makes this game so interesting, however, is it's ability to return huge profits by giving player's the power to raise their initial bet – not just once, but twice.
Player's start by making a bet, then receive three cards. They can Call, keeping their original bet, or Raise an equal amount, before seeing the fourth card. They have the same option before the fifth card is revealed. Thus a player who is dealt at least a Pair of 10's in the first three cards knows they can't lose, and should take advantage of both Raise options.
The disadvantage here is that there are no wild cards, and no draw phase. But most would agree that's a fair trade off. The key to winning here is to minimize losses. Don't raise when you don't already have a winning hand, and always raise when your first three cards guarantee a win.
Tablet Video Poker – Louisiana Double Poker
This is a truly unique game, and one that could bear a love-hate relationship with fans of video poker games. It's played just like standard Jacks or Better, except that there's one extra card in the deck, called the "Double" card.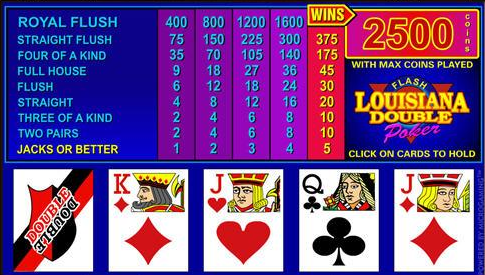 It's not a wild card. It can't create winning combinations, and has no way of increasing your odds of winning. What it does do is double any winnings you may receive on a hand, so long as that card is present.
You may have figured out the problem already. When the Double card is in play, only 4 other cards remain, which means the player must create a winning combination with only those four cards, instead of five.
It's got great potential for high payouts, but the odds of getting a winning hand, and the Double card, in the same deal are heavily reduced. Then again, a Pair (Jacks or higher), which would only return the player's bet in a standard game, would actually return an even money profit with the Double card in play.
Louisiana Double Poker is certainly one of the most unique video poker games on the market today, and just one of the many variants that are now compatible with tablet casinos.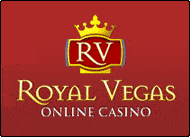 Royal Vegas Canada has been our editor's #1 pick for three consecutive years ! Great compatibility of course (iphones, mobiles and tablets) but also an exciting range of games and promotions. Excellent support teams and quick cashouts… What else to ask for ?
(Remember to gamble responsibly)