26 Jan
Favorite Canada Mobile Casino LeoVegas hosts 5yr Celebration
Birthdays should also be celebrated in elaborate style. The team behind LeoVegas obviously support that model. In celebration of its 5th birthday this month, the popular Canada mobile casino brand hosted a huge corporate bash, launched a 150,000k promo for members, and released an exclusive new game, Be The King.
Company Party – Cake and Bubbly for All
LeoVegas officially turned 5 years old on January 12, 2017. Every employee of the company made sure to show up for work that day, not just in their home office in Malta, but their Swedish headquarters as well. The multi-national offices were connected via video conference for a full-on birthday bash, complete with cake, champagne, an endless stream of orange balloons, and presents for each and every hard working member of the staff.
Having skyrocketed to the top of the mobile casino industry so quickly, LeoVegas certainly knows how to thank it's employees for their considerable efforts and dedication to the brand. They didn't forget their most valuable assets, either… the players.
LeoVegas Hosts 5th Anniversary Promotion

From January 25th through February 24th, all members of LeoVegas are invited to join in the mobile casino's anniversary celebration. For 30 days straight, players can enter to win 5k each and every day just for playing at LeoVegas.
There's 150,000 in cash prizes, but that's not all. Players can also win thousands of free spins on the slots. All it takes to enter and win is a minimum deposit of £/€/$10.
Canada Mobile Casino Launches Be The King
Since LeoVegas can't realistically send out physical gifts to each and every member of the favorite Europe and Canada mobile casino, they've instead commissioned one single gift for all to enjoy. The company hired Gamevy, a London-based software developer that specializes in instant win games, to create one of the most interesting bespoke games I've ever come across.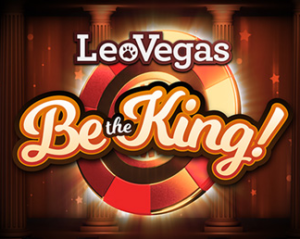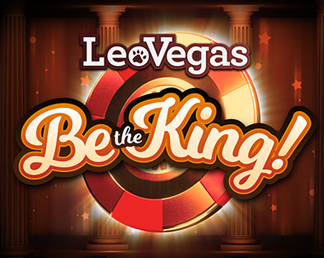 It's called Be The King, and it gives players a chance to win up to one million dollars!
In describing the game, I'd have to compare it to Deal or No Deal, but with a unique twist. The game screen depicts a 5×10 grid of square blocks. Of the 50 positions on the board, 10 have LV poker chips hidden behind them. It's the player's job to try and find all 10, or at least as many as they can, before cashing out.
The twist is that players get 4 lives to complete the task. Each time they choose a block that doesn't have a chip, they lose one life. However, finding a chip resets player back to 4 new lives, giving them a fresh shot to unleash the million every time they uncover a chip.
If a player's lives run low and they don't believe they will find another chip, they can always cash out and keep any current winnings they've collected. Find all 10 chips, and the million is awarded!
"At LeoVegas we value mobile innovation and being able to offer something different, that is not only customized with our branding, but also gives players an opportunity to instantly win up to €1 million," said LevoVegas Head of Casino, Karolina Pelc. "It is a great way to celebrate our fifth birthday!"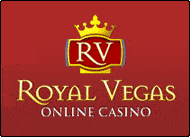 Royal Vegas Canada has been our editor's #1 pick for three consecutive years ! Great compatibility of course (iphones, mobiles and tablets) but also an exciting range of games and promotions. Excellent support teams and quick cashouts… What else to ask for ?
(Remember to gamble responsibly)