22 Mar
Google Pixel C Review: Best Android Tablet 2017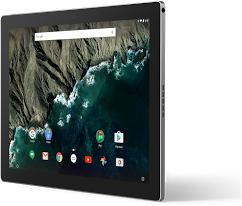 When you want to know how well any new electronics device stacks up to the competition, you have two basic choices. You can go out and buy one, or you can go to the experts at CNET. Two weeks ago, I went searching for the best Android tablet of 2017, and I was blown away by the site's Google Pixel C review.
I was so impressed, in fact, that I made up my mind right then and there. I hopped in the car, drove to Best Buy and – much to my dismay – realized that the Pixel C is not sold in retail stores. I guess I should have done just a bit more research beforehand, so shame on me for being hasty.
As it turns out, Google released the Pixel C tablet as an "exclusive" item, available from the Google Store only. You can find it on a few other websites these days, but not many, and not for the same, lower price offered by its manufacturer.
It's also worth noting that Google stopped selling the 32GB SSD version (originally priced at US $499, CA $665), and now only offers the larger 64GB SSD, which still goes for the initial price of US $599, CA $799).
The relatively low number of online electronics dealers who are selling new (not used/refurbished) Google Pixel C tablets have obviously bought them from the Google Store and marked the price up, because I couldn't find one anywhere else for under US $649.99 (CA $865).
With that said, let's take a closer look at why CNET – and myself, having owned one for the last week – believe the Google Pixel C is the absolute best Android tablet 2017 has to offer (despite its initial release in December 2015.)
Google Pixel C Review
This Android tablet is simply amazing. It's slim, lightweight and very sturdy, due to its aluminum casing. The performance speed is incredible, and the battery seems to keep going and going, much longer than my old Samsung Galaxy Tab 3 ever could.
The most spectacular feature of all, in my opinion, is the graphic quality. Whether a still image, animation, or live video stream, the 10.2" LTPS LCD screen is crisp, clear and stunningly vivid.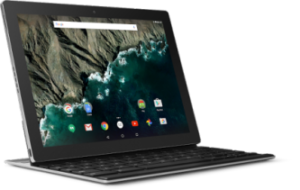 Under the hood, the Google Pixel C packs a hefty punch with the Android 7.0 Nougat installed (with Google's first-priority Android updates), a powerful NVIDIA Tegra® X1 processor with 256-core Maxwell GPU, 64GB SSD, 3GB RAM, a battery that lasts more than 12 hours in video streaming, plus a trio of built in sensors (gyroscope, accelerometer and ambient light) to enhance the user experience.
Using the optional Bluetooth keyboard (sold separately – US $149, CA $199) in tandem with the tablet, it could easily rival the market superiority of the Microsoft Surface Pro line, while the tablet alone could theoretically dethrone the Apple iPad Air series.
I haven't decided whether to get the keyboard yet myself, but from what I've seen and read – although much smaller than a traditional laptop – it's got a lot of promise for notebook fans.
The Casino Compatibility Test
As with all of my computers and mobile devices over the years, I wanted to make sure the Google Pixel C was capable of running online casino games. I'm happy to say, it passed that test with vibrantly flying colors!
I ran the Royal Vegas Mobile Casino app, as well as the instant-play games direct from the Royal Vegas website, with no hiccups, delays or graphic issues. Smooth as a babies bottom, as the old saying goes.
Best Android Tablet 2017
Although I haven't tried the Sony Xperia Z4, Huawei MediaPad M3, Dell Venue 10 7000, or Samsung Galaxy S2 – respectively ranked by CNET as the #2 through #5 among best Android tablets of 2017 – I can't possibly see any of them beating out the experience of the #1 ranked Google Pixel C.
Check out CNET's Best Android Tablets 2017, and its Google Pixel C review, to learn more.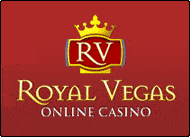 Royal Vegas Canada has been our editor's #1 pick for three consecutive years ! Great compatibility of course (iphones, mobiles and tablets) but also an exciting range of games and promotions. Excellent support teams and quick cashouts… What else to ask for ?
(Remember to gamble responsibly)