2 Jun
Live Casino: Play Online Blackjack with Other Players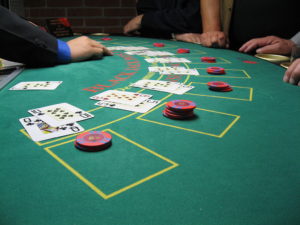 Thanks to the world wide web, there are now two basic ways to play blackjack for real money. You can visit a land-based casino and play blackjack with other players, or you can go online and play by yourself.
But what if you could have the best of both worlds?
In recent years, live streaming technology has given way to what's known as 'Live Casino' gaming. It's not done in a land-based casino, and can be played from home or just about anywhere on a mobile device. Players don't feel isolated by the digital aspect, and can actually play alongside real people, just as they would in a traditional casino.
At live casinos, you can play blackjack with other players, with a real live dealer shuffling and passing out real cards. In essence, live casinos bring the experience of a land-based casino directly to the players.
Live Casino Blackjack, Then and Now
The very first live casinos showed up shortly after the turn of the millennium, but they didn't become too popular for nearly a decade years, due to internet connection speeds and low-quality webcam feeds.
The latest technological advancements have turned live casinos into a vibrant, streaming experience that everyone, even mobile users, can enjoy – not just people with uber-expensive desktop gaming computers.
When you play blackjack with other players at a live casino, you won't actually see the faces of those around you. However, you can talk and banter with them in a real-time text chat while you play. You'll also be able to view their cards on the table, just as you would in a traditional setting.
Where to Play Blackjack with Other Players
There are hundreds of casino websites that offer this feature, and about a dozen software companies that run live casino studios. Suffice to say, you should have no trouble finding a live casino to play blackjack with other players online.
The quality of each live casino, and the games they offer, can differ greatly. Some of the more popular live casino studios are run by distinguished companies like Microgaming, Playtech and Evolution Gaming.
In my experience, Playtech seems to have the largest variety of live casino games, going well beyond the usual blackjack, baccarat and roulette. However, their video and sound quality can get sketchy at times, and it happens more often than it should.
Microgaming has better quality, but the game variety is much lower. The live casino studios aren't as interesting either. They have a stale atmosphere to them, as do the dealers who run the tables. Otherwise, they aren't a bad option at all.
Evolution Gaming provides the only live casino games that have all the qualities players should be looking for. The software and video/sound quality are top of the line, and even run in HD without any delays or interruptions. They have an extensive selection of games, with more than enough tables to accommodate peak-hour traffic.
Their studios have a genuine, casino ambiance to them, as well. The dealers are personable, interacting with players in a fun and light-hearted way that I haven't experienced elsewhere.
The choice is yours, of course, but if it's a genuine, unbiased recommendation you're looking for, I suggest you try playing blackjack with other players on Evolution's live casino tables at Royal Vegas. They've never done me wrong.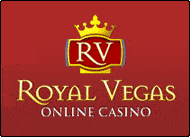 Royal Vegas Canada has been our editor's #1 pick for three consecutive years ! Great compatibility of course (iphones, mobiles and tablets) but also an exciting range of games and promotions. Excellent support teams and quick cashouts… What else to ask for ?
(Remember to gamble responsibly)