11 Oct
The iPhone X Online Casino Experience
Will the experience of iPhone X online casinos break any molds, or just Apple customers' budgets?
In 16 days, die-hard fans of the iPhone series will be able to pre-order the biggest, baddest Apple smartphone to date. It's called the iPhone X (pronounced iPhone Ten), in celebration of Apple's 10th anniversary producing these esteemed mobile devices.

The iPhone 8 and iPhone 8 Plus were released last month, but the iPhone X won't be available for a few more weeks. Customers can start pre-ordering these new Apple smartphones on October 27, 2017. They'll begin shipping out a week later, on November 3.
What Will It Cost Me?
As always, Apple is moving the price point skyward for its latest designs. The iPhone 8 already retails for $699 for the 64GB version, or $849 for the 256GB. The iPhone 8 Plus 64GB is going for $799, or $949 for the 256GB.
The iPhone X will be Apple's most expensive smartphone to date, starting at $999 for the 64GB, or $1,149 for the 256GB. That's a lot of dough to bake for a phone, albeit a large, pristine and very well equipped one.
What I, and I'm sure many of our readers, would like to know is whether the iPhone X online casino experience will break any molds, or just the banks of devoted Apple fans?
iPhone X Specs & Features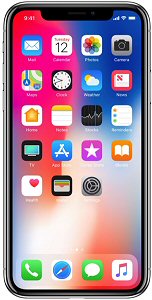 According to prerelease information, the iPhone X has got some pretty impressive features. Not only that, it comes equipped the largest screen display of any iPhone before it. The 5.8-in 'super retina' display covers the entire face of the phone; just not quite the way the Samsung Galaxy S8 does. The display won't actually curl around the edges. But the face is all screen, aside from the usual top-center position, where the front-facing camera and speaker are located.
As for image and video quality, Apple spared no expense. The iPhone X's OLED, HDR (high dynamic range) display carries a fantastic 2436×1125 resolution and a deep contrast ratio of 1,000,000:1. Clearly, the vibrant display is designed to be incredibly, well… clear.
To aid in the streaming exhibition of high definition, 3D-quality graphics, animations and videos, Apple infused the iPhone X with its A11 Bionic chip and a six-core processor. These include two performance cores and four efficiency cores, said to be 25% faster than the A10.
That's a lot of power under one little hood. The Apple iPhone X was built to handle 3D gaming with ease, as well as running built-in augmented reality (AR) technology.
Put all this together, and I don't think the new iPhone X will have any trouble running even the most demanding online casino games. I imagine it will run live dealer casinos better than any mobile device in history. Users will still be inhibited by internet connection speeds, of course, but players should have no trouble reading the cards and numbers on the screen, or telling what color the dealer's eyes are for that matter.
iPhone X Online Casinos Require Top Security
One of Apple's biggest selling points is its devotion to superior security and safety features. The newest iPhone uses facial recognition, called Face ID, and they're so confident in its capabilities that they're encouraging users to employ the feature for everything from unlocking the device, to authenticating transactions and paying for mobile purchases with Apple Pay and other payment methods. In short, your face becomes the password.
Apple claims the Face ID is more secure than fingerprint ID. It's easy to setup on a new device, enabled by Apple's TrueDepth camera. Apple says it "projects and analyzes more than 30,000 invisible dots", generating a "precise depth map" of the user's face.
This should certainly speed up the process of logging in, depositing and withdrawing cash from an online casino. So long as you don't have an evil twin 😮
Speaking of the camera, it's going to be an impressive one. Unlike the iPhone 8 Plus, the new iPhone X features a front-facing camera with Portrait and Lighting modes. The 8 Plus only has this on its back camera. So for all you selfie-loving photographers, you'll be able to take and edit stunning images of yourself.
You can even use the Animoji feature, which uses the camera's TrueDepth technology to create animated emojis that follow your facial expressions in real time. If you ever wanted to know what you'd look like as a cat, dog, panda, robot, etc., this is the phone for you.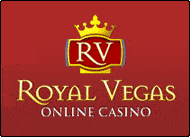 Royal Vegas Canada has been our editor's #1 pick for three consecutive years ! Great compatibility of course (iphones, mobiles and tablets) but also an exciting range of games and promotions. Excellent support teams and quick cashouts… What else to ask for ?
(Remember to gamble responsibly)