13 Jul
PC & Mobile Safety Tips for Online Casino Downloads
Protect your PC and mobile from fake links to download casino games.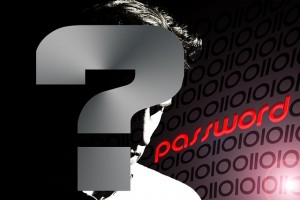 Every year, more and more people suffer from identity theft, information fraud, system infiltration and other illegal scams that fall under the vast umbrella of 'hacking'. The malefactors are getting smarter; their programs more cunning, more sinister in nature. The easiest way to become a victim is to simply let your guard down.
For online casino gamers like myself, the threat is very real. It's not that iGaming operators are bad. Most of them—the reputable ones who undertake proper licensing, regulation and player protections—are not at fault. Their online casino downloads are perfectly secure; the games certified safe and fair. But that doesn't mean every download is safe.
Unless you're getting that download directly from the source, you could be compromising your own system. You can protect your PC or mobile device by watching out for…
Fake Links to Download Casino Game
When you download online casino games directly from the source—the website they are made for—you know you can trust them. For example, downloading the Royal Vegas Mobile app from RoyalVegasCasino.com—that's safe. That's a link or QR Code you know you can trust.
How do you know? For several reasons. For one, because the download is coming directly from the source. Secondly, Royal Vegas employs Microgaming software, which is constantly tested and certified for safety. And most importantly, because Royal Vegas goes back nearly two decades, and is under strict Maltese regulation. Like many similar companies, it's built a trusted rapport with customers, and would never compromise such a successful business to spit malware at its customers.
But this does not make it safe to download Royal Vegas casino games from some random third party website. Anyone can set up a download link for a file with the same name and extension, but what's in that file? It might be the casino games you're expecting. Or, it could be a virus, trojan, ransomware, adware, spyware… anything!
App Stores for Online Casino Downloads
Aside from downloading directly from the source, the only other trusted option is the app store for your operating system. If you're using an android device, get your apps from Google Play. iOS users should download from the Apple iTunes Store. For Windows PC and Windows Phone, the Microsoft Store is the proper choice.
If the app store doesn't offer casino games from the operator you want—which is fairly common in some parts of the world—then your options are limited. You must go directly to the source; nowhere else.
Protect your PC and Mobile from Malware
You are responsible for the protection of your PC and mobile devices. Following the above rules to download casino games will keep your system safe. But there are other ways evildoers can try to trick you. Shrewd yet subtle ways that too many people fall for every day.
If you receive an email from an online casino, it may be a scam, whether you're a member of that site or not. Look carefully at any links supplied in the email. They might say "Click Here to Claim this Exclusive [Casino Name] Promotion Now", but if you mouse over them, observing the information bar at the bottom of your screen, do they actually link to the domain of that casino's website? Or is it some other domain you've never heard of?
There's every chance it's a phishing scam. They want you to click the link, then enter your login details for the casino in question. The website may even look just like the casino in question. But once you do, they have all your account information…
It's so easy to for criminals to mask their identity these days. Websites, caller IDs, social media accounts, email addresses; they make it look so perfectly legit. This may sound cynical, but it's imperative, especially when it it comes to email…
Don't Trust Anyone! Even your friends and relatives
Here's a perfect example, and a very true story. I get emails sometimes twice a week, supposedly from my Aunt, saying things like, "Hey, thought you would enjoy this", and "Is this you in this picture?" followed by a link. Just yesterday, I received this one. The names are scratched out for obvious reasons, but I left the email address it supposedly came from, since it's so blatantly fake (and nowhere near my Aunt's name).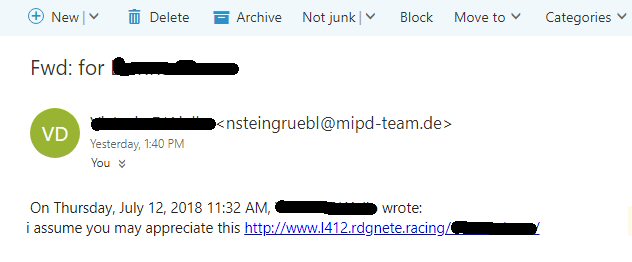 I've never clicked any of these email links, and immediately send them to junk mail. I know very well they are not from my Aunt. Subtle signs will give it away. For one, she doesn't email, she calls or texts. For two, she doesn't use her full name, like the email displays. For three, she wouldn't send something so short and illusive in context. Four, she wouldn't bother typing my full name in the subject line. I could go on and on with why it's so obvious… and I can only imagine what those links go to. I'll never know, because I'll never fall for that scam.
If you happen to get something like this, do NOT click the link. If you're curious, call the person who supposedly sent it to you and ask. If you don't know this person well enough to have their phone number, they shouldn't be emailing you in the first place.
The point is, you can keep your PC and mobile devices safe by simply being smart and never letting your guard down. Download casino games from a trusted source, avoid disreputable gaming websites, and ignore suspicious emails.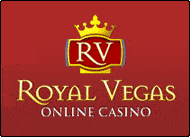 Royal Vegas Canada has been our editor's #1 pick for three consecutive years ! Great compatibility of course (iphones, mobiles and tablets) but also an exciting range of games and promotions. Excellent support teams and quick cashouts… What else to ask for ?
(Remember to gamble responsibly)