29 Sep
Yggdrasil Launches New Halloween Slots, Wolf Hunters
Yggdrasil exudes Halloween spirit in new Wolf Hunters Slot.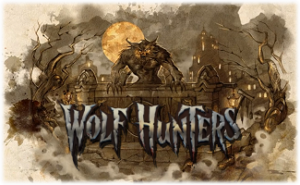 The month of October is fast approaching. There's a shivering chill in the air as the leaves take their annual turn to the vibrantly flaming shades of autumn. What was that sound? A distant howl? Is that a full moon shrouded beneath the wandering clouds? Oh yes, dear readers… It's almost Halloween!
The creative masterminds at Yggdrasil—like so many of their digital gaming rivals—have been hard at work to produce a fresh arrangement of new Halloween slots. The Swedish-based development firm released its latest creation today, just in time for the most frightfully fun of holidays. Werewolves beware the Wolf Hunters Online Slot is here!
New Wolf Hunters Slot from Yggdrasil
Wolf Hunters went live today at Yggdrasil online casinos, fully optimized for desktop, smartphone and tablet play. The game's intro tells the chilling, centuries-old tale of werewolves, and the fearless hunters who brave the foreboding terror of the full moon to hunt them.
This game is so graphically detailed, you may need to close all other programs to play it without lag. That's okay—it's worth it, because this really is a stunning experience. The dark gothic scenery is emboldened by an eerie musical score that should not be muted!
With 5×3 reels and 20 paylines, thematic symbols include the werewolf, the two hunters, and the tools of their trade (traps, stakes, potions, etc.). Four prismatic encrusted jewels make up the lower paying variety. The wild, werewolf and hunters are the game's special symbols.
Wilds do the usual job of replacing other standard symbols to produce wins. Whenever one or more wild appears, it will also trigger one free respin of the reels. If another wild appears during the respin, another respin triggers, and so on.
Hunters can award 10 Free Spins if one appears on reels 1 and 5 in the same spin. During regular free spins, hunters have a higher rate of success against wolves, and will collect power up bonuses each time they appear on the reels. Collecting three power ups for either hunter awards 2 additional free spins, and will cause the werewolf wilds to expand; left-to-right for the male hunter, and top-to-bottom for the female hunter.
Werewolves will be attacked by one of the two hunters each time one appears on the reels. If the hunter wins, there werewolf turns into a wild, reducing the wolf's health by 1, and increasing the Hunter's Rage Meter by 1.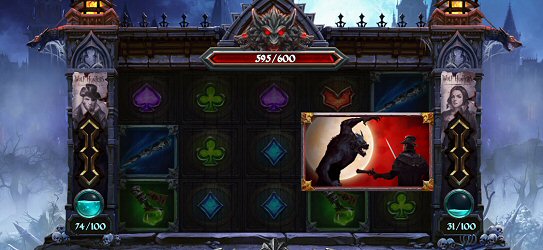 10 Hunter Free Spins are awarded when a hunter's rage reaches 100. During these spins, the triggering hunter is fully powered up, increasing their odds of beating the werewolf. All werewolves, if defeated, become expanding wilds.
10 Slayer Free Spins are awarded for reducing the werewolf's health from 600 to 0. He appears often, so it's not as hard as it sounds. During these spins, all werewolf symbols automatically turn into expanding wilds.
Note: When you first play the Wolf Hunters Online Slot, you'll get to start with 70/100 and 30/100 rage meters for your hunter and huntress respectively.
Maybe it's just me—I'm a sucker for Halloween frights!—but I absolutely love the new Wolf Hunters Slot. It's got so many features that something is constantly happening. The whole concept comes together into a genuinely ominous nail-biter that will send chills up your spine. Dim the lights and turn up the sound, because this is by far the best new Halloween slots game to hit the internet in years!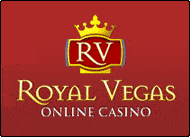 Royal Vegas Canada has been our editor's #1 pick for three consecutive years ! Great compatibility of course (iphones, mobiles and tablets) but also an exciting range of games and promotions. Excellent support teams and quick cashouts… What else to ask for ?
(Remember to gamble responsibly)