23 Oct
Dia De Los Muertos & Lucky Streak 1, New from Endorphina
New Endorphina slots on the way, Dia De Los Muertos and Lucky Streak 1.
I remember when Endorphina first entered the digital slots development space just a few short years ago. The company's design team and creative efforts were phenomenal. So phenomenal, in fact, Endorphina immediately rose to stardom as Slots Guide's choice of Best Online Slot Developer 2015.

Although their new creations tend to be few and far between, there's no questioning the imagination and effort that goes into all of their new game titles. From the gorgeously rendered Venetian clock-theme in last year's Cuckoo, to the devilish dominatrix styling of Taboo, their innovative path is most certainly one of 'quality over quantity'.
At present, the Endorphina slots portfolio consists of just 51 games; Kamchatka being the latest in mid-September. That number may not sound impressive, but the fact that the software is licensed to over 175 online gambling sites—more than 3x the studio's game capacity—speaks volumes to the brand's ingenuity. And coming up very soon, the portfolio will increase to 53 titles as they prepare for the launch of two new slots from Endorphina; Dia De Los Muertos and Lucky Streak 1.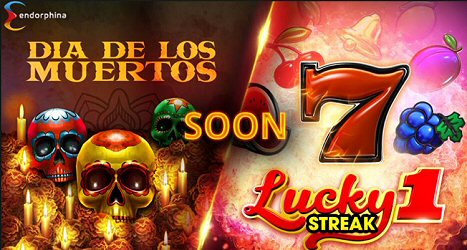 New Endorphina Slots, Dia De Los Muertos
As many of you may know, the phrase "Dia de los Muertos" refers to the Mexican celebration of the dead; literally translating to "Day of the Dead". It is a time when the people of Mexico don their most colorful and flamboyant attire, pouring into the streets with lit candles and ornately painted skulls, dancing to mariachi music, celebrating the loss of loved ones, and praying that their journey into the afterlife be a swift and joyous occasion.
As much as we know about the holiday for which the game celebrates, we have very few other details about the game itself. Endorphina is staying tight-lipped as to the features, but they did say we can expect it to arrive at partner casinos "around Halloween time, just to elevate your spooky festive mood in time for the holidays."
In a news release, Endorphina describes the Dia De Los Muertos Slot as, "a magnificent insight into Mexican traditions," advising players to "expect nothing less than a delicate and colorful tribute to this beautiful tradition."
New from Endorphina, Lucky Streak 1 Slot
Following the release of Dia De Los Muertos, Endorphina is promising to deliver a new take on a classic favorite. The Lucky Streak 1 Slot will cater to fans of traditional fruit machines, featuring the usual 7s, bells, cherries, plums, grapes and other delectable fruits. Again, there's no mention of what specialties we can expect within the game, but the company assures us it will be worth the wait.
"The slot encompasses the classic fruit theme which our players love so much, so don't expect to be disappointed," reads a statement from Endorphina. "Lucky Streak will have a good old-school vibe with a fiery twist, and we hope it can make many of our players' hearts jump with joy."
Again, an exact date for the release of the new Endorphina slots game has yet to be revealed. The only timeline given for Lucky Streak 1 is that it "will be released shortly after" the launch of Dia De Los Muertos. So, for now, we'll just have to wait patiently…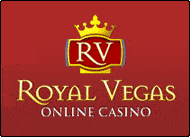 Royal Vegas Canada has been our editor's #1 pick for three consecutive years ! Great compatibility of course (iphones, mobiles and tablets) but also an exciting range of games and promotions. Excellent support teams and quick cashouts… What else to ask for ?
(Remember to gamble responsibly)