31 Oct
Guide to Playing Real Online Slot Machines for Mobile
Indoctrinate guide to real slot machines for mobile gamers in Canada.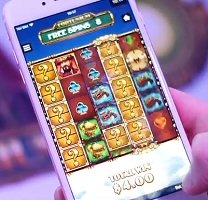 If you live in Canada like myself, you may already be aware that online gambling is perfectly legal here. Four provinces offer access to home-grown, provincially regulated gambling websites, but the other six do not. Fortunately, gaming on internationally regulated websites is perfectly acceptable, too. Either way, you'll find a multitudinous selection of real online slots machines for mobile and desktop.
Likewise, most Canadian provinces support land-based casinos, where genuine slot machines can be found in abundance. But again, not all. Only seven provinces regulate traditional casino-style slot machines; the other three do not.
We'll talk about these locations and more in our complete guide to Canadian slot machines.
Real Online Slot Machines for Mobile in Canada
Starting with the interactive side of things, there's no shortage of real online slot machines in Canada. These games are played exactly the same way as a land-based machine. Their physical mechanics may be different, but the software that powers them is not. Both physical and digital slots utilize a random number generator (RNG) and theoretical return to player (RTP) to designate random results.
Online slot machines are provided on the jurisdictional gaming websites of British Columbia and Manitoba (PlayNow.com), Ontario (PlayOLG.com) and Quebec (Espacejeux.com). If you live in one of these provinces, and are of legal age to gamble, you can access the corresponding website to play online slot machines for real money.
If you don't live in one of those locations—or, if you would prefer a wider variety of games to choose from, with more generous payouts—you can access one of hundreds of offshore online casinos. These websites are not illegal, so long as they don't have any offices or servers on Canadian soil. They've been accepting Canadian for more than 20 years without incident.
Many more Canadians choose to play online slot machines with these offshore websites because they understand the odds of winning can be twice as high, if not more. Most Canadian provinces impose a minimum RTP of 85%, give or take a few integers. While some of their digital slots have an RTP comparable to the majority of international online casinos—which average 96-97% RTP—most do not. I've seen them set to pay as low as 83.63%. Ouch!
Real Slot Machines in Canada Casinos
Land-based casinos in the provinces of Alberta, British Columbia, Manitoba, Ontario, Quebec, Nova Scotia, and Saskatchewan provide visitors with genuine slot machines. Again, the payouts aren't as good as they are online, but not everyone enjoys the hermetical solitude of playing online slot machines for mobile and desktop. For some, the energy and ambiance of the casino atmosphere is part of the overall entertainment experience.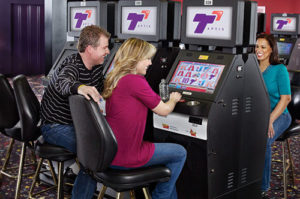 Unfortunately, if you visit a 'gaming centre' in New Brunswick, Newfoundland or Prince Edward Island, what appears to be slot machines really aren't. These games are called VLTs, or video lottery terminals. They look like slots. They play like slots. But they don't pay out like slots. The image to the right depicts common TapTix machines,  showing just how similar they can appear to genuine slots.
Pulling the lever on a VLT is equivalent to scratching off an instant-win lottery ticket. Whether you win or lose has already been predetermined. For those who don't know any better, it may not make a difference, but most of us know better. This helps explain why so many people from these areas travel to other provinces, or take their gaming online to play real slot machines for mobile in Canada.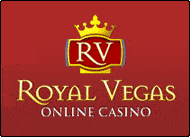 Royal Vegas Canada has been our editor's #1 pick for three consecutive years ! Great compatibility of course (iphones, mobiles and tablets) but also an exciting range of games and promotions. Excellent support teams and quick cashouts… What else to ask for ?