21 Nov
Do Higher Slots Bets Pay Off? This Player thinks so…
Megasaur Jackpot Slot pays $95k after player increases to max bet.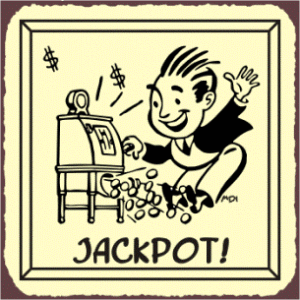 Slot machines are among the hardest gambling amusements to predict. Card games like blackjack—we have some idea of our true odds on this game. If dealt 6+6 with the dealer showing a 9, we know we're probably going to lose. We know not to double down or split our cards. But slot machines… they are totally different.
We never know what the next spin may bring. Even if the RTP is 96%, that doesn't tell us squat about the next spin. It could deliver absolutely nothing, just as easily as it could pay a massive progressive jackpot. Some players swear that higher slots bets pay off better. That higher bets are more likely to produce jackpot strikes. Others say it makes no difference at all. One Swedish woman who agreed with the latter a few weeks ago has since changed her mind completely.
Megasaur Jackpot Slot Pays $95k on Max Bet
Last week, a woman from Sweden was spinning the reels of a RealTime Gaming slot machine known as Megasaur. The woman, known only by the name Graziella, has been a member of the online casino Slotastic since 2015. Up until now, she's been a cautious player, posting conservative bets and winning small sums here and there.
On November 15, 2018, she was playing her usual favorites at her usual small-time bets. After playing the Megasaur Slot for awhile, Graziella had come into a few lucky spins. With some extra cash in her bankroll, she decided to do something out of the ordinary. She increased her wager to the maximum size, known as a 'Mega Bet'.
Why the sudden increase? Because she knew she couldn't win the progressive otherwise. The Megasaur Slot isn't like most slot machines. It has just three bet levels – Minor Bet, Major Bet and Mega Bet. And the only way to activate the jackpot is to place a Mega Bet, which happens to cost 4x as much as a minor bet; 2x as much as a major bet.
Low and behold, just a few spins later, Graziella landed a trio of Volcano scatter symbols, triggering the game's Free Spin feature and awarding 10 free games. Again, this was exceptional, because in the Megasaur Slot, the only way to win the jackpot is during the free spins mode. And because she had just increased to a maximum Mega Bet, the Mega Jackpot at the top of the screen was now lit up and active.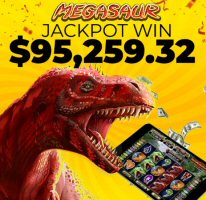 A word on this game's unique progressive… The jackpot shows only one value—the Mega Jackpot. However, it can be won on three levels; Minor, Major and Mega. If a player wins the Minor Jackpot, they receive only 10% of the Mega Jackpot's total value. The Major Jackpot pays out at 20%, and the Mega Jackpot the full, 100%.
So, with the free games now in motion, all she needed was 5 volcanoes to appear on the screen… and that's exactly what she got. The full value of the progressive was worth just under one million at the time, so even after striking the Minor Jackpot (10%) level, she was able to collect a massive $95,259.32.
As she tells it…
"I'd just been placing small bets all night. After a few small wins I figured it was time to increase my bets. I was sure glad I did because it was only a couple more spins before I got three scatters, which triggered 10 free spins. When I saw that the Mega Jackpot had been activated for those spins I was almost too nervous to click the Spin button! I couldn't believe it when I got five Volcanoes and won the Mega Jackpot!"
Do Higher Slots Bets Pay Off?
On the Megasaur Jackpot Slot, yes—only higher bets will actually pay the jackpot, because that's the only way to activate it. In other progressive games, however, that's not usually the case.
The Mega Moolah, from Microgaming, is capable of paying its jackpot at any bet size. In fact, in October 2015, British Soldier Jon Heywood won the machine's world record highest online jackpot progressive prize of €17,879,645 on a mere 40p wager.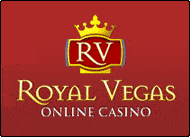 Royal Vegas Canada has been our editor's #1 pick for three consecutive years ! Great compatibility of course (iphones, mobiles and tablets) but also an exciting range of games and promotions. Excellent support teams and quick cashouts… What else to ask for ?
(Remember to gamble responsibly)