28 Nov
Volatility and Viability of Free Bet Blackjack
Evaluating the Gamble: Free Bet Blackjack rules, pays and house edge.
We all love getting something for nothing. The word 'Free' insights enthusiasm from all who read it. We look closer. We evaluate the worth of the supposedly free item or service. Unfortunately, the results of the evaluation are rarely positive.

The truth is, there's very little in life that's free. There always seems to be a catch; a price to be paid, whether monetary or not. We'll take a closer look at one brow-raising casino title, Free Bet Blackjack, to see if that's the case, or if there really is a valuable advantage within this so-called 'free' blackjack game.
Free Bet Blackjack Rules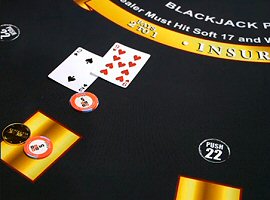 Free Bet Blackjack was invented by Geoff Hall—the same combinatoric card game creator that brought us Blackjack Switch, Zappit, and Zombie Blackjack. Hall received a US patent for the game in October 2013, describing it as a "blackjack variation with opportunity for gratuitous bets".
The name doesn't exactly do the game's rules justice. Players will have to bet with their own money for a chance to win anything of value. The term "free bet" applies to extensions of a player's original cash wager. Specifically, the casino will pay for most Double Down and Split bets, so long as the player's hand meets certain criteria.
Free Double Down Bet: The player's hand will qualify for a free double down wager if, after being dealt two cards, those cards total 9, 10, or 11, without an Ace. The player is not required to take the free bet. It is optional. Any other card combination can also be doubled down by the player, at his or her own cost.
Free Split Bet: The player's hand qualifies for a free split wager if, after being dealt two cards, both of those cards are of equal value and rank, but are not 10s or face cards. For example, if dealt 9-9, the player may split these cards for free. The casino will cover the additional bet to split into two hands. The player may split 10-10, J-J, Q-Q or K-K if they wish, but only at his or her own cost.
Free re-splitting is allowed up to 4 times. The free double down bet is also available following splits and re-splits. For example, if a player is dealt 8-8, they may choose to split the hand for free. If one of the hands receives another 8, it may be split again. If the other hand receives a 3, for a total of 11, a free double down may be invoked.
In case of a push, the player only gets back his or her original wager. The casino reclaims all free bets.
Free Bet Blackjack Pays and House Edge
And now for the catch… There is just one major rule change that ensures the player will not gain an advantage over the house. If the dealer's hand totals 22, it is not a bust. Instead, all player bets will push. This brings the house edge to 1.04% in games where the traditional 3 to 2 payout for a natural blackjack is applied. If the casino only pays 6:5 for a natural blackjack, the edge rises to 2.4%, but this is uncommon.
Either way, you'd be better off playing traditional single- or double-deck blackjack with a 3:2 pay for naturals. Depending on the other rules in play, the house edge should be somewhere around 0.5% to as low as 0.27%.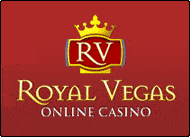 Royal Vegas Canada has been our editor's #1 pick for three consecutive years ! Great compatibility of course (iphones, mobiles and tablets) but also an exciting range of games and promotions. Excellent support teams and quick cashouts… What else to ask for ?
(Remember to gamble responsibly)