10 Dec
Yggdrasil gets Anthropomorphic in Time Travel Tigers Slot
Ever wish you had a time traveling machine? How about a time traveling slot machine? With tigers!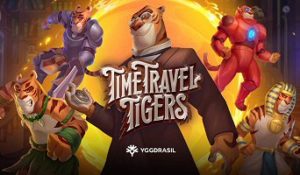 We've all had some pretty interesting fantasies over the years. Having access to a time traveling device has to be high on most people's list. Some wish to explore the prehistoric age. Others want to see medieval times, or the Victorian era. Many of us would like to take a trip back to our younger days to relive our favorite memories.
As far as I know, scientists haven't succeeded in building a functioning time machine yet. The imaginative guys and gals over at Yggdrasil Gaming came up with a creative idea, though. They've given us a time traveling slot machine. Not just any old time-traveling slot, either. This one's got tigers! That's another childhood fantasy of mine. I can't tell you how many of my birthday and Christmas lists growing up included a "pet tiger". I never did get one… but I digress.
Time Traveling Slot Machine for GVC Brands Only
Before I get too far into this review, I need to mention that Yggdrasil's latest creation, Time Traveling Tigers, is available exclusively at GVC brand online casinos. GVC is the holding company that owns about two dozen online gaming companies; brands like Bwin, Coral, Gala, Ladbrokes, and PartyCasino.
Normally, I do all of my Yggdrasil gaming at LeoVegas Casino. If you want to play his particular game, though, you'll need to sign up with one of the GVC casino labels. Already being a member of PartyPoker, I chose to give it a spin at PartyCasino.
Time Traveling Tigers Slot
Yggdrasil invites players to join them on an anthropomorphic journey through time, to the ancient past and distant future, thanks to the groundbreaking discovery of Dr. Tigerstein, a supremely intelligent scientist who's unraveled the mysteries of time travel. His genius is depicted across 5×4 reels and 25 paylines, playable on just about any desktop, smartphone or tablet device.
The game's symbols include relics from each time period. The graphics, sound effects and available symbols will alter throughout the game, depending on which time period the player is in. The Dr appears alongside various other tigers that match the current time period.
In the Prehistoric Age, the tiger appears as a jungle cat, akin to a ferocious-feline version of Tarzan. In Ancient Egypt, the tiger is a thematic Pharaoh. During Medieval times, he is a courageous, sword-wielding Knight. And when traveling into the great unknown, the tiger is veiled in Futuristic armor, al la Iron Man.

Each time period changes the feel of the game. Each is also part of Time Travel Tiger's four free-spin bonus features, where the variable periods offer a different set of exciting free spins and multipliers.
Jonas Strandman, Head of Slots for Yggdrasil, is proud of his team for delivering such an innovative design for their exclusive white label partners. In his words, the new time traveling machine slots game "offers an exciting and unique take on a themed slot, with a consistently transitioning setting."
Strandman says designing the Time Travel Tigers Slot was "great fun for the development team," while the creative work that went into it was "a fascinating challenge" for all involved.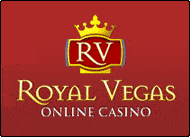 Royal Vegas Canada has been our editor's #1 pick for three consecutive years ! Great compatibility of course (iphones, mobiles and tablets) but also an exciting range of games and promotions. Excellent support teams and quick cashouts… What else to ask for ?
(Remember to gamble responsibly)