15 Jul
Trio of New Live Casino Games from Playtech
Playtech updates portfolio of live stream casino games with 3 new titles.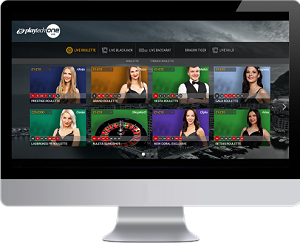 Playtech, once renowned for its digital slots content, has kept its design team busy elsewhere in recent months. There aren't too many hit games coming off the production lines for slots fans right now, but new live casino games are flying onto the shelves. With over 500 classic and video reel games on the market already, I've no doubt it was a calculated decision on their part.
Just this morning, Playtech announced the release of three new and updated live table games. The leading iGaming tech firm is celebrating the launch of an all new Live American Roulette game, the innovative new Live Spread-Bet Roulette, and the complete makeover of its Live Hi Lo Club.
Increasing Demand for Live Stream Casino Games
Kevin Kilminster, Playtech's Head of Innovation for Live Casino, explains the company's choice to venture ever deeper into the live casino realm as a simple matter of economics. Supply and demand drives ever business. Responsible businesses supply what the public demands, and those who focus on quality and innovation are often most successful among them.
"The demand for experience-focused gameplay amongst the modern generation of Live Casino players is stronger than ever. Live Casino is part of the entertainment industry as well as the gambling industry – the presentation and atmosphere we can deliver is what makes players choose Live over standard RNG games. With the addition of American Roulette, Hi-Lo Club and Spread-Bet Roulette to our range, we can offer players an even more immersive and exciting entertainment experience"
Live American Roulette
Based in Playtech's elegant Grand Royale casino room, the new American Roulette Live table is what the maker's call a "high-end roulette variant" that complements their existing portfolio of premium live table games.
In my opinion, the "high-end" label works only to the advantage of Playtech's casino licensees. As any educated gambler knows, American Roulette features a double-zero, hence doubling the traditional 2.7% house edge in single-zero games (European, French) to 5.26%. Nice try Playtech, but we'll pass on that one!
Live Spread-Bet Roulette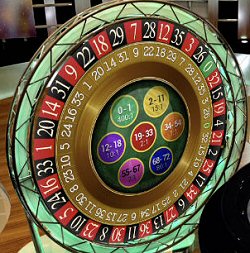 Now this is truly an innovation in roulette gambling. The base game is played on a standard European Roulette wheel. However, inside that wheel is another smaller, golden-numbered wheel. It contains all the same numbers, 0 thru 36, in the same order of seemingly-randomized appearance, but it spins in the opposite direction of the base wheel. When the ball lands, the numbers each wheel land on determine the base game and spread-bet winners.
With the optional spread-bet, punters are given the chance to bet on the resulting sum of the two winning numbers. For instance, if the base wheel lands on 24, and the inner golden wheel on 3, the total is 25. Therefore a bet on the 19-33 spread would win.
Spread bets and their corresponding payouts are as follows:
| | |
| --- | --- |
| Spread | Payout |
| 0 – 1 | 400:1 |
| 2 – 11 | 15:1 |
| 12 – 18 | 10:1 |
| 19 – 33 | 2:1 |
| 34 – 54 | 1:1 |
| 55 – 67 | 7:1 |
| 68 – 72 | 80:1 |
Live Hi Lo Club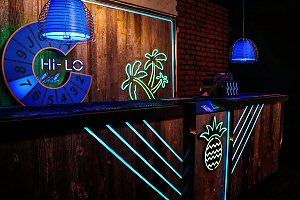 This one is a reinvention of Playtech's original Hi Lo Live casino tables, relaunching as Hi Lo Club. The design crew focused primarily on enhancements to the user experience – what they call UX – as well as an update to the room to depict a 1980's Miami theme, complete with neon tracings and a nostalgic musical score.
Altogether, Playtech's newest live stream casino game packs an immersive retro punch with fast-paced card gaming action, ideal for desktop and mobile gambling.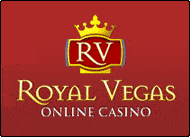 Royal Vegas Canada has been our editor's #1 pick for three consecutive years ! Great compatibility of course (iphones, mobiles and tablets) but also an exciting range of games and promotions. Excellent support teams and quick cashouts… What else to ask for ?
(Remember to gamble responsibly)