12 Nov
Online & Live Dealer Blackjack on Twitch
Rhymes and reasons to watch blackjack online via live streams.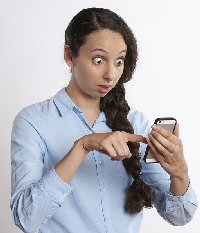 Blackjack is not an entertaining game. I'm sorry, but it's not. If you play with any type of strategy, it's a very mundane, methodical game in which your undivided attention may be required. So if not for entertainment purposes, why would anyone watch video feeds of live dealer blackjack on Twitch?
I can understand the video gaming craze among today's youth. Playing League of Legends or Black Ops III for hours at a time can get extremely frustrating. Seeing others have a good game, laugh about their failures, or go on 'mad bro' rage kills can help alleviate stress or lighten the mood. But blackjack? That's a whole different beast.
Rhymes & Reasons to Watch Blackjack Online
If not for entertainment, I can still think of a few good reasons you might want to watch others play the timeless casino classic of 21. Right off the top of my head…
Learn How to Play
Everyone who plays blackjack had to start somewhere. Some learn from their elders. Others dive right in, figuring it out as they go. In today's technological age, however, people learn to do a lot of things by watching videos. Why not learn the rules of blackjack in the same way?
Familiarize Yourself with the Mechanics
Maybe you know how to play, but you've never done it online, from a mobile device, or in a live dealer casino setting. Fear of making a mistake is one of the primary reasons so many of us never try anything new. Fortunately, blackjack is nothing like sky diving. Watching others do it can relieve a ton of stress before trying it on your own.
Live dealer casinos can be especially nerve-wracking. Knowing we're going to be timed in placing bets and making decisions really turns up the heat for first-timers. Videos help us to become familiar with things before we jump in.
Boost Your Strategy and Card Counting Skills
Some live streamers will take the time to teach their viewers the ropes of skillful gaming. Utilizing a blackjack strategy chart and actually understanding the math behind its use are two very different things. Hearing out loud how a pro keeps a card count, tracks Aces, and estimates the deck size can do wonders for your own ability to incorporate such strategies.
Witness the Success & Failures of Others
That may sound a bit cynical, but hear me out. Many times throughout history, blackjack players have made a show of taking a sizable bankroll to the tables and betting it all on a single hand. It's been done at land-based casinos, and in the digital age, it's become a big draw for those who watch blackjack online.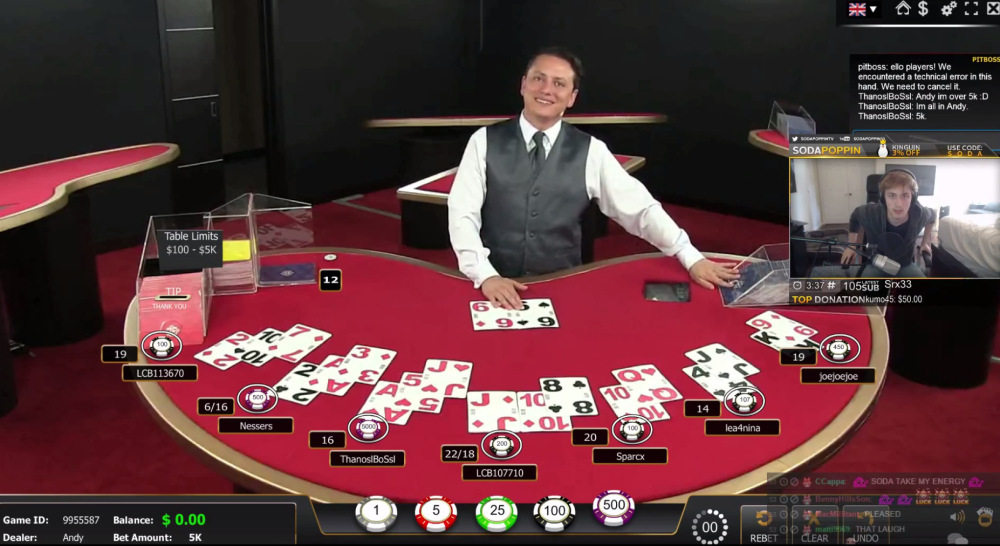 One Twitch streamer by the nickname SodaPoppin (perched quite literally on the edge of his seat in the image above) is particularly famous for it. I've seen multiple videos where the young gambler has lost thousands of dollars on a single bet. A few years back, he deposited $2,500 and bet it all on a single hand. He was dealt 20, and got extremely excited, until the dealer went five cards deep for the push. SodaPoppin was incredibly upset, but went right back to it, placing another $2,500 bet.
This time, he was dealt a 3, followed by the 8 he so strongly desired. Unable to resist, he added $2,500 to his bankroll and pressed 'Double'. With $5,000 on the line and knuckle tightly between his teeth, he received a 5, automatically standing on a dastardly total of 16. The dealer, with 7 showing, took a 10, ending with 17.
He lost the entire $5,000 on a single hand, and that was just one of his worst live streaming experiences. If you want to witness this for yourself (maybe live blackjack streams can be entertaining after all?), check out this video, published by a viewer who calls himself MikkZ, who kind enough to string together a few of SodaPoppin's bets and worst moments.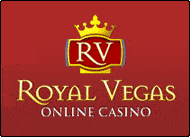 Royal Vegas Canada has been our editor's #1 pick for three consecutive years ! Great compatibility of course (iphones, mobiles and tablets) but also an exciting range of games and promotions. Excellent support teams and quick cashouts… What else to ask for ?
(Remember to gamble responsibly)