13 Dec
Online Slots Jackpot 39x Easier to Win than Lotto
Online progressive jackpot slots are (relatively) easy to win!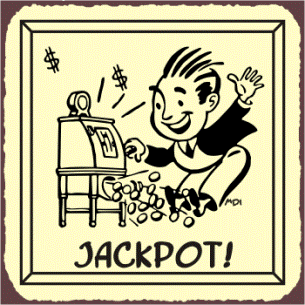 That's a bold statement, don't you think? Winning a progressive jackpot at an online casino – that's no easy task. It can't be. Everyone would be doing it! And unfortunately, you're right. Those mega-sized jackpots don't strike every day, or every week, or even every month, for that matter. But like most things in life, it's all relative. Any hard task will seem easier when compared to something far more difficult.
The truth is, online slots jackpots don't seem nearly so out of reach when you compare the odds to that of something like winning a national lottery. Don't believe me? The statistics don't lie. Have a look…
Online Progressive Jackpot Slots vs Lotteries
There are more progressive slots online than you may realize. We know of the most famous ones – the Mega Moolah, Mega Fortune, and PowerBucks come right to mind. All told, there are more than 500 progressive jackpots on the world wide web alone. Some pay 4- and 5-figure jackpots. Other start in the 6-figure range. Only Microgaming's Mega Moolah seeds with a 7 digit prize of $1,000,000.
Each of these games carry their own odds of the jackpot striking. I'd love to know the exact odds of winning the Mega Moolah, since it's been paying out faster and faster with each passing year. In 2019 alone, we've already seen 11 strikes. Unfortunately, the odds of winning the Mega Moolah actually fluctuate, dependent upon how much a player wagers.
Any bet size can trigger the random bonus feature, wherein players are guaranteed to win one of the four progressive prizes, including the mega jackpot, but – according to the creators of the game – the larger the bet that's placed, the higher the odds of triggering that bonus game will become. It's only a slight increase, I assure you, but it does exist. And for this reason, it's impossible to give the exact odds of becoming Microgaming's next millionaire.
A lot of games work this way, increasing their payout rate with a player's bet size. Fortunately, the same company's second most famous progressive slot machine, Major Millions, isn't one of them. The exact odds of winning that jackpot are:
Major Millions Jackpot Odds – 1 in 7,484,400
Yikes, that's a far reach, isn't it? Yes, but let's compare…
Odds of Winning a National Lottery
Everyone says they want to win the lottery. We all dream of what we'd do with that massive prize. But the odds are so astronomically stacked against us, it's ridiculous to think it will ever happen. Worse, they make the odds of winning online progressives seem easy.
Below are some of the biggest lottery jackpots in the world, and the odds of striking pay dirt with a single ticket.
| | | |
| --- | --- | --- |
| Lottery Game | Accessibility | Odds of Winning |
| Lotto 6/49 | Canada | 1 in 13,983,816 |
| Lotto Max | Canada | 1 in 28,633,528 |
| UK National Lottery | United Kingdom | 1 in 45,057,474 |
| Euro Millions | Parts of Europe | 1 in 139,838,160 |
| PowerBall | United States | 1 in 292,201,338 |
| Mega Millions | United States | 1 in 302,575,350 |
| SuperEnaLotto | Italy | 1 in 622,614,630 |
Conclusion
You're about two times more likely to win the Major Millions than you are the Lotto 6/49 in Canada, four times more likely than the Lotto Max, and six times more likely than the UK National Lottery. It only gets worse from there.
Play the US lotteries, and your a staggering 39x more likely to win an online progressive jackpot slot than the Powerball, and over 40x more likely than the Mega Millions. You don't even want to know how bad off the Italians are! Their lottery has the worst odds of all, 83x worse than online slots jackpots.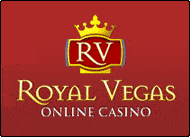 Royal Vegas Canada has been our editor's #1 pick for three consecutive years ! Great compatibility of course (iphones, mobiles and tablets) but also an exciting range of games and promotions. Excellent support teams and quick cashouts… What else to ask for ?
(Remember to gamble responsibly)