21 Jan
Unique Live Blackjack Games w/ Fun Twists
Beyond Live: Three Unique Live Casino Blackjack Games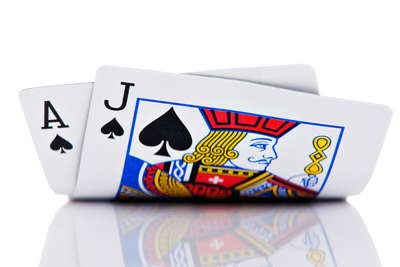 Blackjack is blackjack, right? Players versus dealer in a battle to get the closest to 21, without busting. Sure, there may be slight rule variations that move slide the house edge ever-so-slightly in one direction or another, but all in all, isn't it always the same game? Absolutely not!
While it's true that there are hundreds of blackjack variants with slight alterations to the rules, not all of them fall into the category of "same-old, same-old". There are a few games out there that divert far enough from the norm to give players a more fun experience, a more profitable experience, or both.
Today we'll be talking about three such games, all available as live casino tables. These unique live blackjack games come with fun twists rarely seen in the realm of casino gambling.
Three Unique Live Casino Blackjack Games
The three games I've chosen for this review are as follows. Click on the one you'd like to learn more about, or scroll down to read more about each one in turm.
Early Payout Blackjack (Visionary iGaming) – Confidence faltering? Get a partial payout before the dealer has a chance to ruin everything!
Perfect Blackjack (NetEnt Live) – Why strain your brain learning and implementing perfect strategy when this live 21 game does it all for you?
Infinite Blackjack (Evolution Gaming) – This is a side bettor's delight, featuring four optional bonus wagers. Plus, it's the only live blackjack game that pays for 6-Card Charlie.
Early Payout Blackjack Live by Visionary iGaming
Early blackjack is unique in more ways than one. First of all, it's a community game, meaning all players decide on the same hand(s). It's also a multi-hand blackjack game. A total of three hands are dealt in each round. Players can choose to bet on any of the these hands; all three of them, if they wish. What really makes it interesting is the chance to cash in before the dealer ever acts.
From the moment a hand is dealt, players will have the option to take an 'Early Payout'. The value of the payout will depend on the value of the hand, compared to the dealer's up-card. A hand that is more likely to beat the dealer's (i.e. Q-8 vs. 6) will offer a higher early payout, whereas a long-shot hand (5-7 vs. K) will have a lower payout.
The house edge in Early Payout Blackjack Live is 0.69%.
Perfect Blackjack Live by NetEnt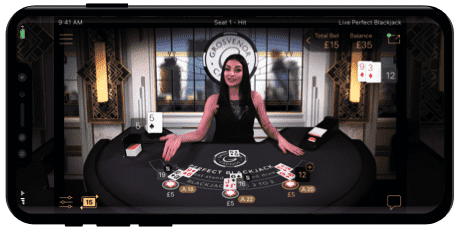 Do not confuse NetEnt's Perfect Blackjack with a game of the same name from Playtech Live. The Playtech version is far from "perfect", and only takes its name from the fact that the 'Perfect Pairs' side bet is offered. The NetEnt version is the only one that deserves its title, employing "perfect strategy" on every hand so that the player doesn't have to. But it'ss not everyone's cup of tea.
You don't really "play" this game. You bet on it, like you would baccarat or roulette. There are three hands, and you can bet on any one, two, or all three of them. You can also click a button to decide whether or not you'll auto-split or auto-double, should strategy call for it. Aside from placing these bets, you won't have an active roll in the way a hand plays out.
Placing a bet, then sitting back and watching the dealer play it out according to best strategy, does mean you'll get the best odds. But it doesn't afford the usual entertainment that comes from being in control of all decisions.
The house edge in NetEnt's Perfect Blackjack is 0.5%.
Infinite Blackjack by Evolution Gaming

I've chosen to include this title among the most unique live blackjack games simply because it offers so many side bets. Most live 21 variants do not. This one presents the two most popular blackjack side bets, 21+3 and Any Pair, plus two less common options, Bust It and Hot 3.
Before I continue, I have to point out that side bets are generally a bad idea, at least where house edge is concerned. These four are no different, giving the casino an edge of 3.7% to 6.18%. If you play the live blackjack game alone, with proper strategy applied, the house only has an advantage of 0.45%. then again, side bets can make the game more fun, so if you're one of those people that enjoys the added element of risk and excitement, Infinite Blackjack is a great choice.
That said, here are the side bet rules and pay tables available in Evolution's Infinite Blackjack Live.
21+3
This is a 3-Card Poker side bet that uses the first two cards dealt to the player, plus the dealer's up-card. If that three card combination develops into one of the hands in the pay table below, the corresponding payout is awarded. If not, you lose the bet.
| | |
| --- | --- |
| 3-Card Poker Hand (Player's First 2 + Dealer's Up-Card) | Payout |
| Suited 3 of a Kind | 100:1 |
| Straight Flush | 40:1 |
| 3 of a Kind | 30:1 |
| Straight | 10:1 |
| Flush | 5:1 |
| House Edge | 3.70% |
Any Pair
This is a very simple bet that the player's first two cards will be a pair. Any pair will win, but a suited pair is worth more.
| | |
| --- | --- |
| First two cards are… | Payout |
| Suited Pair | 25:1 |
| Unsuited Pair | 8:1 |
| House Edge | 4.10% |
Bust It
Everyone hopes and prays that the dealer will bust. Now, you can bet on it, too. The more cards the dealer receives before busting, the more you can win.
| | |
| --- | --- |
| Dealer's hand busts with… | Payout |
| 8+ cards | 250:1 |
| 7 cards | 100:1 |
| 6 cards | 50:1 |
| 5 cards | 9:1 |
| 4 cards | 2:1 |
| 3 cards | 1:1 |
| House Edge | 6.18% |
Hot 3
Similar to the 21+3 side bet, Hot 3 uses the player's first two cards in combination with the dealer's up-card. This time, it's the blackjack value of those three cards that makes or breaks it. The total value needs to be exactly 19, 20, or 21 to win. A suited or all-7s 21 pays extra.
| | |
| --- | --- |
| Value of Player's First 2 + Dealer's Up-Card is… | Payout |
| 21 – All 7s | 100:1 |
| 21 – All same suit | 20:1 |
| 21 | 4:1 |
| 20 | 2:1 |
| 19 | 1:1 |
| House Edge | 3.70% |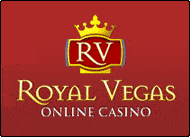 Royal Vegas Canada has been our editor's #1 pick for three consecutive years ! Great compatibility of course (iphones, mobiles and tablets) but also an exciting range of games and promotions. Excellent support teams and quick cashouts… What else to ask for ?
(Remember to gamble responsibly)