13 Aug
Three Big Techs Driving the Digital Casino Industry
Revolutionary online casino technology that will reshape the future.
Technology is constantly advancing, progressing, evolving with newer, more exciting capabilities. If you grew up in the 1980s, you know just how fast technology can change the world. We've witnessed everything from the birth of the internet, to the unbridled omnipotence of social media. We went from watching television on a handful of channels, to streaming anything and everything, whenever and wherever we want.
It's the same progressive technology that's driving one of the world's most valuable, fastest growing industries – online gambling. Twenty years ago, online casinos were slow operations with a small collection of games. You either had to download a massive casino client to your PC (don't event ask what it took to play on a Mac!), or load a Java-based version in browser, often resulting in miserably annoying lag.
If the same were true today, this industry would have dissolved long ago. The progression of technology, however, has been astounding. Casino downloads are no longer required. Connection speeds are supremely faster. Lag is virtually non-existent. Smartphones and tablets allow players to take the games anywhere. Gaming menus are getting longer than the fine print of a software user agreement!
Online Casino Technology of the Future
If you think this is as good as it gets, you're wrong. Tech developers aren't taking an extended vacation. They're continually coming up with bigger and better ideas. And with that in mind, we're going to talk about three revolutionary technologies that are already begining to shape the future of the online casino industry, and will continue to do so over the coming years.
Cloud Gaming – Live Streaming Games Without Delay
What is cloud gaming, you ask? It's a means of live streaming content, without actually downloading that content. Think of it like streaming a movie on Netlfix. It is gaming-on-demand. It's like playing a video game without owning a cartridge or CD, or having to download it to your system first. Heck, cloud gaming doesn't necessarily require you own a system, in the first place.
Still confused? How about this. Cloud gaming works just like watching a video on Youtube, except that it's an interactive video that responds to far more inputs. You hit play, it plays. You hit pause, it pauses. But now, there are many more selections that result in many more actions. And for all possible actions, there are different video frames sent instantly from the cloud to depict the result.
Right now, Google is preparing to launch Stadia, a cloud gaming service. Slated for November, Stadia is, for lack of better explanation, a video game console without a console. The console is the cloud. All players need is the gaming controller and an account.
This same technology can be used to reduce the bulk of an online casino's file storage and database. Players will be able to interact with the system in real time, and with thousands of other gamers. Imagine today's existing live dealer casino games on metaphorical steroids – it's kinda like that.
Blockchain Technology – It's Not Just for Crypto Anymore
For years, we've been told that blockchain technology is what powers cryptocurrency transfers. Most of us don't really know what a block chain, or how it does what it does. Much like the inner-workings of a car engine, we don't need or care to know how it works, so long as we know that it does indeed work.
Well, in layman's terms, a blockchain is a virtual chainlink. Every link is a recorded transaction. If you go back and look at the individual links, you can see that a transaction was made. You may not be able to see exactly who made it, or exactly where it originated or ended up, but you can prove that it exists. Because it's right there, in the form of a traceable link. Essentially, the blockchain is the proof that each and every crypto coin does in fact exist.
Online casinos are taking this same technology and infusing it into their digital games. By doing so, they can go back and look at each and every instance of that game; every result, as it happened, and how it happened. In this way, they are able to prove that the games themselves are unpredictably fair.
Most online casinos currently rely on third-party auditing services that regularly test the software. They run rigorous, simulated gaming sessions, deploying at least one million results to determine the actual payout percentage, and certify that it is on par with the game's expected return. These services can be costly, but they're necessary to prove to players that the games are fair.
By upgrading to blockchain technology, online casino games become provably fair without the need of costly certification. Players themselves will be able to go back and view each game result, or "block", seeing how the game played out and how the random number generator (RNG) impacted the unpredictability of the results.
Artificial Intelligence – They Know You Better Than You Know Yourself
Artificial intelligence – A.I. for short – has been the subject of more sci-fi novels and movies than most of us could count. Movies like Blade Runner, Transcendence, and the entire Terminator franchise. But A.I. is not a thing of fiction. The truth is, many of us don't even realize how much of an impact A.I. already has on our daily lives.
When you go to Google, and start to type a search query, it automatically fills the search bar with "predictive text". That's a computer program thinking for you. When an unknown user searches Google, predictive text is based on what the majority of people search for. When a known user searches for something, Google's A.I. system predicts what that user will type based on what they've already searched for in the past.
A.I. is also the reason we see certain "targeted ads" online. If you search for Nike shoes, you'll start seeing lots of ads for Nike shoes, other Nike products, and even shoes similar to Nike. The A.I. has picked up on the fact that you want/need new shoes, and that you like Nike and similar brands.
We're already beginning to see the impact of A.I. on online casino technology. Casino apps track what games you play most. They know if you prefer slots or table games. They know if you spent more time playing classic reel slots, or live dealer blackjack, or video poker. When you log in, they may suggest you play these games, or these types of games. They may even present you with an exclusive promotional offer to play a new game that fits the profile you've been assigned by A.I. software.
This technology will no doubt evolve more and more with time, sculpting personalized experiences for every player.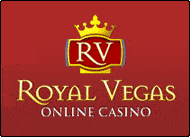 Royal Vegas Canada has been our editor's #1 pick for three consecutive years ! Great compatibility of course (iphones, mobiles and tablets) but also an exciting range of games and promotions. Excellent support teams and quick cashouts… What else to ask for ?
(Remember to gamble responsibly)