27 Feb
Entropay Casino Payments for Ultimate Peace of Mind
Complete guide to Entropay Virtual Visa credit card deposits.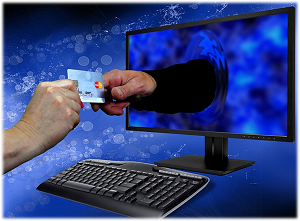 Whether you're new to the online casino community, or a seasoned veteran, there's no questioning the value of a fast, secure and cost effective payment method. Getting funds into a gambling website is easy. Getting them back out, without hassle, exorbitant fees, or an unconscionable wait time, is a rare quality.
As a Canadian and long-time patron of internet casinos, I've learned a lot about payment methods over the last 12 years; mostly through trial and error. While they're all very fast at getting your cash into the casino, some are more secure than others. Some are cheaper, more convenient, and more accessible for players residing in Canada. Some can only be used to deposit, but not withdrawal, which opens a whole new can of worms.
Late last year, I discovered a better way to facilitate deposits and withdrawals. I began utilizing Entropay casino payments. Having done some research on the company, I'd actually avoided Entropay in the past due to its lack of direct CAD compatibility. Now, having experienced enough of the 'other' options, I've found Entropay to be the best way for Canadians to deposit and withdrawal at online casinos.
Entropay Virtual Visa Credit Card Deposits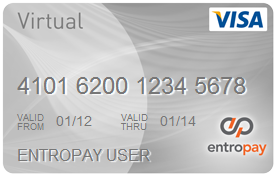 An Entropay account works very much like an online bank account, except that it's intended for online use only. Users can deposit funds into the account, like a real bank, and are issued a card number, like a real bank. In this case, it's a Virtual Visa credit card, used to make online purchases.
The Virtual Visa card a prepaid card. It comes with a 16-digit card number, and expiration date, and a 3-digit CVV security code. Like any other online prepaid card purchase, this is the information you'll enter when making Entropay casino payments.
Founded in 2003, Entropay is a safe and secure way to send and receive money over the web. Its Virtual Visa cards are, of course, backed by the decades-old Visa brand. In the following text, we'll discuss everything you need to know about using Entropay Virtual Visa at online casinos.
The Catch: CAD Accounts not Supported
I'm going to start with the catch, telling you the bad news before we go any further. Entropay does not supporter CAD accounts. During registration, new users must choose either GBP, EUR or USD. You can still fund your account in CAD, but that money will be converted to the currency you register with, based on that day's currency exchange rate. The reverse occurs when transferring money from Entropay back to your bank account.
In the past, I've been a stickler for CAD deposits and withdrawals. Currency exchange fees can be annoying, to say the least. But after exploring and experimenting with so many other options, I finally came to the conclusion that – with the right payment method – it can be worth it.
Honestly, the lack of CAD Entropay accounts is the only drawback I've found with this payment option. It excels in every other category (speed, security, deposit/withdrawal, convenience, etc). And with the limited number of low-cost transaction fees, Entropay casino payments are still cheaper for me, even with the currency exchange fee, than any other method I've tried. And believe me, I've tried a lot!
Read more about currency exchange rates and all other Entropay Fees here.
Registering for a Free Entropay Account
Signing up with Entropay is free and painless. If you have all the required information ready, it shouldn't take more than 60 seconds.
You'll start by entering your full name, address, email, date of birth and chosen currency (GBP, EUR, USD). You'll also select a username and password. Once that info is filled in, press the 'Create Account' button.
Next, you'll want to link the account to a credit card, debit card or physical bank account. I strongly recommend linking to bank account, because the fees are much lower. To do this, you'll need to enter the bank name, routing code and institution number. You should be able to find this information on the bank's website, or call the bank and ask for it. Then provide your bank account number, and the process is complete.
Load Funds Onto Your Entropay Virtual Visa
To load funds onto your card, log into your Entropay account and navigate to the online card management system. You can instantly load funds onto your card directly from your bank account, so long as there are sufficient funds available in your bank.
Note that there are limits to the amount your can load and unload to/from your Entropay account, depending on the type of account you have. The chart below shows all limits for Standard and Pro accounts. Note that you can upgrade to Pro for free at any time by completing a simple identity verification process.
| | | |
| --- | --- | --- |
| Deposit to Entropay (from Bank) | Standard | Pro |
| GBP | 2,000/year | 10,000/month |
| EUR | 2,500/year | 15,000/month |
| USD | 3,000/year | 20,000/month |
| Withdrawal From Entropay (to Bank) | Standard | Pro |
| GBP | 800/year | 35,000/month |
| EUR | 800/year | 45,000/month |
| USD | 800/year | 60,000/month |
Using Entropay Virtual Visa at Online Casinos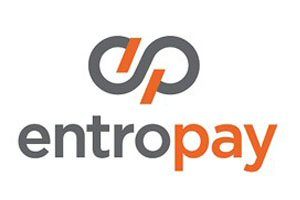 With your account all set up, Entropay Virtual Visa credit card deposits are quick and easy. You can deposit instantly at any Canadian online gambling site that accepts this payment method. Simply choose Entropay from the payment list and enter your card details as instructed. The payment will be instantly applied to your casino balance.
To request a withdrawal, the process is the same. Choose Entropay as your preferred withdrawal method and follow the instructions. Withdrawals take a bit longer, due to the casino's processing period. Every operator is different, but the standard processing time is 24-48 hours. Once processed, the money should appear in your Entropay account within 0-3 business days.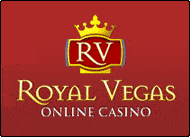 Royal Vegas Canada has been our editor's #1 pick for three consecutive years ! Great compatibility of course (iphones, mobiles and tablets) but also an exciting range of games and promotions. Excellent support teams and quick cashouts… What else to ask for ?
(Remember to gamble responsibly)